The speech of President Aquino during 75th anniversary of the Department of Budget and Management on April 25, 2011 has become relevant amid the controversy generated by the Disbursement Accelerated Program or DAP, the brainchild of Budget Secretary Florencio "Butch" Abad that got unqualified support from President Aquino.
This is what Aquino said:

July 27, 2014 11:44 pm

Tags: Benigno Aquino III, Butch Abad, DAP Posted in: Benigno Aquino III, Governance

3 Comments
The much-awaited Cine Malaya festival, a showcase of intelligent and sensible movies by Filipino filmmakers, will be on Aug 2-10 in CCP Theaters and Ayala Cinemas in Metro Manila.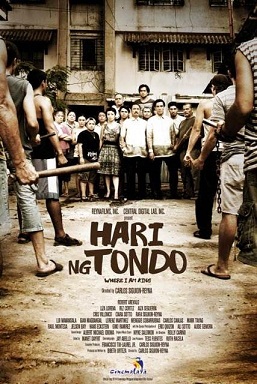 There are 11 films participating. I have marked on my schedule "Hari ng Tondo" by Carlos Siguion-Reyna. Script by Bibeth Orteza.
A grandfather played by Robert Arevalo finds out he lost his fortune the day his granddaughter (Cris Villonco) told him her wedding is not pushing through and his grandson (Rafa Siguion-Reyna) disclosed he is not graduating from college – again.
The patriarch, thinking that his grandchildren's' lack of direction in life is due to their sheltered upbringing, he decided to bring them to Tondo, his birthplace.
The Tondo visit not only made an impact on the Forbes Park- bred youngsters but also to the old man who found out that Tondo is no longer the same place as the one he grew up in.
Also starring: Eric Quizon, Aiza Seguerra, Gian Magdangal, Ciara Sotto.
Other CineMalaya entries: "Hustisya" by Joel Lamangan, starring Nora Aunor; "Kasal" by Joselito Altarejos,starring Polo Ravales; "The Janitor" by Michael Tuviera, starring: Dennis Trillo, Richard Gomez, Irma Adlawan;
Read the rest of this post »

July 25, 2014 8:59 pm

Tags: Cine Malaya 2014, Hari ng Tondo Posted in: Entertainment

No Comments
President Aquino has used every opportunity to justify to the public the billions of pesos that he diverted to finance the Disbursement Accelerated Program or DAP, several projects under it were declared by Supreme Court unconstitutional.
The latest was last Wednesday in Batangas during the commemoration of the 150th birth anniversary of the Apolinario Mabini, the brains of the Philippine revolution.
His arguments are warped and many times dishonest.
We expect more of that when he delivers his 5th State-of-the-Nation Address on Monday. It would be another stressful activity for those who have enough of Malacañang's bewildering arguments for DAP.
Read the rest of this post »

July 24, 2014 11:42 pm

Tags: Dani Girl Posted in: Arts and Culture, Entertainment

No Comments

By Ellen T. Tordesillas, VERA Files
A TV show host, who said he had no money to pay the P78.50 fare, mauled a taxi driver Wednesday morning in front of a Mandaluyong condominium.
Cabbie Edward Villanueva, 49, of World Taxi, said Daniel Marsh, one of the hosts of "Juan Direction," a weekly documentary-style reality show, mauled him and damaged his cab when he insisted that the host pay the P78.50 fare reflected in the taximeter.
VERA Files tried to get Marsh side by text and call, but he did not reply.
http://www.abs-cbn.com/updates/072414-VIDEO-Daniel-Marsh-ng-Juan-Direction-inereklamo-ng-isang-taxi-driver-ng-pambubulabog?scid=40DF3254-B345-493F-BD71-9E9EF5B27C9E
Villanueva said Marsh got into his cab a little past 5 a.m. outside the Prive Luxury Club at The Fort in Taguig and directed him to go to the Tivoli Garden Residences in Mandaluyong.
On their way to Tivoli, the driver said Marsh, who was tipsy, was complaining that he lost his wallet at the club.
Read the rest of this post »

July 24, 2014 10:52 pm

Tags: Daniel Marsh, Edward Villanueva, Juan Direction Posted in: Human Rights

2 Comments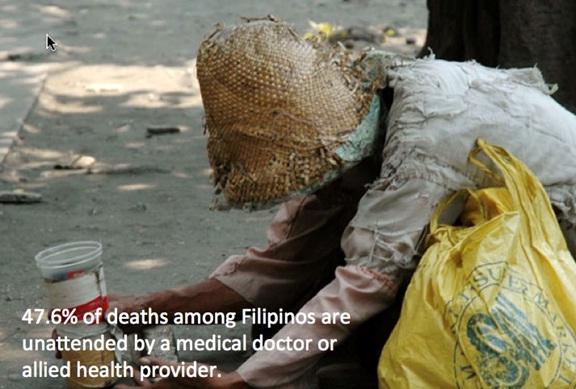 The wealth of a nation is its people.
It goes without saying that a healthy population is a prerequisite for a country to progress.Healthy citizens live longer and are more productive.
Read the rest of this post »

July 23, 2014 12:09 am

Tags: Coalition for Primary Care, Philippine College of Physicians Posted in: Health, Malaya, Uncategorized

10 Comments
When a combative President Aquino addressed the nation Monday last week defending his Disbursement Accelerated Program or DAP which had been declared unconstitutional by the Supreme Court, he made it appear that the projects funded by DAP were cases that bordered between life and death.
To underscore the purported urgent nature of the DAP projects, Aquino shared a text message he got: "On this note, allow me to share a text message I received in the last week. It reads: "The politicians are making fiesta regarding DAP; but to our simple non-legalistic mind, it is like a motorist who parked in a 'no parking zone' because he had to rush to save the life of an accident victim, which has more value. I'm praying hard that these people will see the good of the people rather than their own ambition."
"To this I replied: I think the situation now is similar to what you mentioned, and it might be even worse. I am after all being arrested for parking in an area that up to now hasn't yet been declared a no-parking zone. Is this reasonable?"
Read the rest of this post »

July 21, 2014 6:46 pm

Tags: DAP, Philippine College of Physicians Posted in: Governance

11 Comments
President Aquino's belligerent stand against the Supreme Court's decision declaring his pet initiative, the Disbursement Acceleration Program, unconstitutional was not at all surprising considering his defense of Budget Secretary Florencio Abad, Jr. last Friday.
Reading and listening to his speech was not only appalling. It was disturbing.
It showed the lethal combination of ignorance and arrogance.
The issue is his usurpation of Congress' power of the purse which is a violation of the Constitution and he talked about parking zones!
Read the rest of this post »

July 15, 2014 9:52 pm

Tags: Benigno Aquino III, DAP Posted in: Benigno Aquino III, Governance

59 Comments
Finally, President Aquino will speak to the people of the Philippines on the controversial Disbursement Acceleration Program or DAP today (July 14),Malacañang announced.
Today is exactly two weeks after the Supreme Court in a unanimous decision declared as unconstitutional Aquino and his Budget Secretary Florencio "Butch" Abad pet project.
Malacañang sources said Aquino was stunned by the voting (13-0. Not even his appointees especially Chief Justice Lourdes Sereno sided with him!) he threw tantrums. He wants to wage war against the Supreme Court justices.
Wonder no more why House Speaker Feliciano Belmonte, Jr. wants an investigation on the Judiciary Development Fund being administered by the Supreme Court.
Last Friday Aquino gave the public a preview of what he is going to say today. During the cabinet meeting on the 2015 budget, Aquino announced that he was rejecting the resignation of Abad. "I have decided not to accept his resignation. To accept his resignation is to assign to him a wrong and I cannot accept the notion that doing right by our people is wrong."
Yesterday Abad, who was silent the past two weeks issued a statement taking responsibility for the illegal DAP which was the reason, he said, he tendered his resignation. But there was no apology or remorse for making a mockery of the budget process with the juggling of P374 billion.
Read the rest of this post »

July 13, 2014 10:19 pm

Tags: Benigno Aquino III, DAP Posted in: Governance, Malaya

18 Comments
Ngayon na klaro na ang doktrina ng Tuwid na Daan galing mismo kay Pangulong Aquino, pwede na natin gawin ang gusto natin gawin, basta lang maganda ang intensyun, pasado lahat yan.
Sa cabinet meeting noong Biyernes, inanunsyo ni Aquino na hindi niya tatanggapin ang resignation na inihain ni Budget Secretary Butch Abad kahit sinimplang sila ng malakas (13-0, unanimous, walang nag-disagree) ng Supreme Court sa hindi naayon sa Constitution na Disbursement Acceleration Fund o DAP.
Read the rest of this post »

July 12, 2014 8:17 pm

Posted in: Abante, Governance

13 Comments
The picture we are referring to is that of Interior Secretary Mar Roxas hoisting a sack of NFA rice residue during an inspection of a rice warehouse in Muntinlupa.
Some say that picture, which has gone viral, is photoshopped. We had the photo analyzed by professional photographers and they said it's genuine, not digitally tampered with.
They explained that the reason Roxas hoisting of the sack looked effortless was because the content as indicated in the sack was not regular rice but "broken rice residue" or darak used for animal feed.
Read the rest of this post »

July 12, 2014 3:18 pm

Tags: mar Roxas, rice Posted in: Governance, Malaya

6 Comments