Monday morning, while commuters in Metro Manila were bracing for another day of agony with the already bad traffic situation made worse by the rally staged by the Iglesia ni Cristo, Eagle News PH, posted this breaking news:
"Official Statement of the Iglesia Ni Cristo, ending the 5-day peaceful assembly in victory"
There was a video of Iglesia Ni Cristo General Evangelist Bro. Bienvenido Santiago.
Below the video is this caption:
"MANILA, Philippines (4th UPDATE) – The Iglesia ni Cristo (INC) on Monday, August 31, ended their 5-day protest against the government's supposed interference with internal church matters, saying they have reached an understanding with the Aquino administration."
Read the rest of this post »

September 2, 2015 12:37 am

Tags: Iglesia ni Cristo Posted in: 2016 elections

2 Comments
The Iglesia ni Cristo is making a mockery of Philippine laws and personalities who are aspiring for the presidency are either kowtowing to the church leadership or treading lightly on the controversy.
Vice President Jejomar Binay has become the INC's prime protector accusing Justice Secretary Leila de Lima's investigation of reported kidnapping and detention of INC members as "a clear act of harassment and interference from the administration."
Sen. Ferdinand Marcos, Jr., whose father 's two decade rule enjoyed the support of the INC , accused De Lima of "mishandling" the INC issue which he said led to the rally that worsened the already bad traffic situation in Metro Manila.
Sen. Grace Poe is a disappointment. Asked in a forum in Nueva Ecija on the INC isyu, she kept on inserting the Mamasapano massacre. Was she saying that De Lima should not touch the INC kidnapping issue until after the Mamasapano case is resolved which could be forever?
Read the rest of this post »

August 30, 2015 11:39 pm

Tags: Iglesia ni Cristo Posted in: 2016 elections, Religion

23 Comments
I'm so glad that lawyer Harry Roque has decided to go via the party list in his entry into politics. He is no longer joining Vice President Jejomar Binay's United Nationalist Alliance ticket.
In his meeting with members of the Integrated Bar of the Philippines in Bacolod yesterday, Roque announced that he will be the first nominee of the party list Kalusugan, Pabahay, Kabuhayan or Kabayan which describes itself as " a multi-sector party that represents Filipinos in various marginalized but highly important sectors in Philippine society" in the 2016 elections.
Roque said being with Kabayan "is more consistent with my human rights advocacy."
Read the rest of this post »

August 27, 2015 11:26 pm

Tags: Antonio Trllanes IV, Harry Roque, Jejomar Binay, Kabayan Posted in: 2016 elections, Malaya

13 Comments
They are well- deserved beatings that Customs Commissioner Alberto Lina is getting this week.
After being slammed by the OFW community (that means the estimated 2.3 million overseas Filipino workers plus their relatives at the average of six per OFW) for his order to impose tighter inspection of balikbayan boxes, a regional trial court Monday ordered him to stop his highly questionable act of cancelling the P650 million contract to modernize Customs operation that benefitted his company.
The day after President Aquino stopped Lina's order for stricter control of balikbayan boxes, the Manila Regional Trial Court (RTC) Branch 47 released the order of Judge Paulino Gallegos for Lina also stopping his cancellation of the BOC contract with Omni Prime-Intrasoft JV.
Read the rest of this post »

August 26, 2015 1:44 am

Tags: Bert Lina Posted in: Governance, Graft and corruption

34 Comments
Ombudsman Conchita Carpio Morales didn't mince words in asking the Makati Regional Trial Court to dismiss the suit filed by Vice President Jejomar Binay against her and 12 other persons including senators Antonio Trillanes IV and Alan Peter Cayetano and the Philippine Daily Inquirer.
"Considering that the Complaint appears to be patently bereft of the merit, the only inescapable conclusion is that plaintiff Binay's suit is a sham," she said.
Morales reply also dismissed Binay's complaint as "an obvious publicity stunt calculated to harass and intimidate" her knowing that she will be the final approving authority in the event that the recommendation of the 2nd Special Panel handling the preliminary investigations is adverse to him.
Read the rest of this post »

August 22, 2015 3:53 pm

Tags: jojo binay, Ombudsman Carpio-Morales Posted in: Governance, Graft and corruption

6 Comments
Has the government relinquished its duty of regulating the mining industry to the Catholic Church?
That's the question I asked Environment Secretary Ramon Paje when he said that Hinatuan Mining Corporation (HMC) has to get the approval of the church to their request to remove the 1.1 million metric tons nickel ore stockpile in Manicani which poses risk to the environment minerals pose this rainy season.
Way back 2003 (the Environment secretary then was Heherson Alvarez), the Mines and Geoscience Bureau and Environmental Management Bureau of the Department of Environment and Natural Resources investigated and evaluated the impacts of mining operations in Manicani and Homonhon islands in Guiuan, Eastern Samar and the recommendation on the stockpile was, "while the operations of Hinatuan remains suspended, all available ore materials stockpiled form shipment must be disposed of immediately as these materials may cause siltation and water pollution along the seashore subject, however, to compliance with the other requirements of the DENR, MGB and EMB, as well as with the pertinent laws, rules and regulations."
Read the rest of this post »

August 20, 2015 4:34 pm

Tags: Hinatuan Mining, Manicani, Nickel Asia, Ramon Paje Posted in: Environment, Malaya

2 Comments
No wonder there was no urgency for the Aquino government to find solution to the horrendous traffic that Metro Manilans have to survive daily: they continue to think it's an affirmation of their "good work."
Aquino always brags that under his term, the Philippines experienced economic boom.
And proof of that economic boom, he said, is the traffic gridlock. Last year, he told the Filipino community in Spain: "When you come home and you're caught in traffic, just remember that people are running errands, not just loitering around. That is a sign of economic growth."
Last week, his anointed, Interior Secretary Mar Roxas echoed that line at the annual national convention of the Philippine Sugar Technologists Association Inc. (Philsutech) in Cebu.
Read the rest of this post »

August 19, 2015 6:38 pm

Tags: Benigno Aquino III, mar Roxas, Metro Manila traffic Posted in: 2016 elections, Governance

29 Comments
By Pablo A. Tariman, VERA Files
Rossini's La Cenerentola made its Philippine debut Saturday night (August 15, 2015) at the Meralco Theater with a cheering crowd who loved opera's retelling of Cinderella with another twist: no overbearing stepmother, no missing golden slippers.
Instead we are treated to a tale of the bracelet which ultimately sealed the love of the prince and the commoner.
For one, there were no sets and elaborate costumes.
Mounted in concert form, the Manila Symphony Orchestra under the baton of Darrell Ang shared the stage with the cast namely Arthur Espiritu (Don Ramiro), Karin Mushegain (Angelina as Cinderella), Noel Azcona (Don Magnifico), Byeong-in-Park (Dandini), Ronnie Abarquez (|Alindoro), Myramae Meneses (Clorinda) along with the Aleron All-Male choir.
Read the rest of this post »

August 17, 2015 1:01 am

Tags: Arthur Espiritu, Darrell Ang, La Cenerentola Posted in: Arts and Culture

2 Comments
Antique Gov. Rhodora Cadiao's worst fear has come true: it didn't take long after the July 17 accident in Semirara Coal mine that killed nine workers that the suspension was lifted.
News reports Wednesday said the Department of Environment and Natural Resources has lifted its suspension order against Semirara Mining and Power Corp.'s environment compliance certificate covering the expansion of its coal mine in Antique less than a month after a landslide happened in the area that buried alive nine people.
Semirara Mining Corp. , the biggest coal miner in the Philippines and accounts for 92 percent of the total production in the country, is located in the island of Caluya in Antique, a province in Panay island in Western Visayas.
When the accident happened last July 17 and DENR's Environmental Management Bureau in Region 6 issued an indefinite cease and desist order four days after, Cadiao said "Baka ang mangyari diyan, after two weeks, balik naman sila. Babayaran na lang nila ang mga victims kasi last time (2013 incident), binigyan nila ng P1 million each."
Read the rest of this post »

August 15, 2015 12:02 am

Tags: Semirara Posted in: Malaya, Mining

One Comment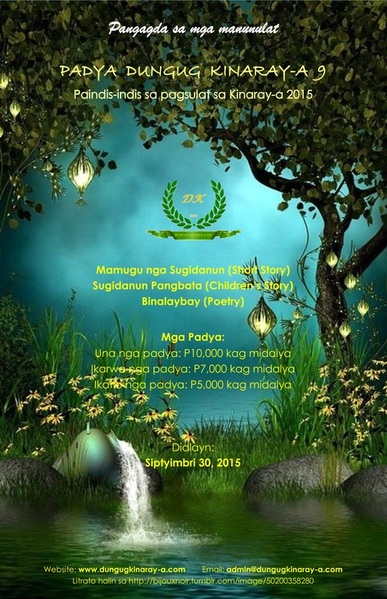 Kinaray-a is the language spoken mostly in West Visayas. It is spoken in Antique, where I come from.
Writer Alex de los Santos , author of the book, "The Rise of Kinaray-a", said Kinaray-a is also spoken in some parts of Aklan and Capiz, most of Iloilo and even in Negros Occidental where the biggest number of sakadas, seasonal workers in haciendas, is Karay-a from Antique.
There's a group of Antiqueños, who has taken up the advocacy of keeping Kinaray-a alive because language gives a person identity and reveals the richness of his culture. They maintain a website, "Dungug Kinaray-a Inc."
U.S. based Ritchie D. Pagunsan, one of the primemovers of Dungug Kinaray-a alerted me to this year's Kinaray-a writing contest .
Read the rest of this post »

August 13, 2015 12:20 am

Tags: Antique, Kinaray-a Posted in: Antique, Malaya

2 Comments