The Philippine College of Physicians, headed by Dr. Anthony Leachon, is recommending that the Philippine government require returning Filipinos from West Africa, where there is a widespread outbreak of the killer disease Ebola, to undergo exit screening there before being allowed to come home.
That is on top of the quarantine required upon their arrival in the Philippines.
The exit screening, Leachon explained, should be quarantine for 21 days, blood tests and questionnaire before traveling back to Manila.
Upon arriving in the Philippines, Leachon said they should also be quarantined for at least seven days to a maximum of 21 days.
Leachon said the longer quarantine is important based on the new findings of the World Health Organization that the incubation period of Ebola is 42 days and not 21 days.
Read the rest of this post »

October 21, 2014 7:36 pm

Tags: Ebola, Tony Leachon Posted in: Malaya

One Comment
The silence of President Aquino on the murder of a Filipino transgender by a member of the United States Marine Corps more than a week ago in Olongapo City is deafening.
Jennifer Laude, 26, a citizen of this country was killed brutally (severely beaten, strangled, drowned , her head shoved in the toilet bowl) almost midnight of Oct. 11 by Private First Class Joseph Scott Pemberton, who is here as part of the PH-US military exercises.
More than a week has passed and not a word of concern from the President of the Philippines.
No representative from Malacañang nor from the Department of Foreign Affairs has visited the grieving family of Laude.
Read the rest of this post »

October 19, 2014 11:11 pm

Tags: Benigno Aquino III, Jennifer Laude, Joseph Scott Pemberton, VFA Posted in: Benigno Aquino III, Foreign Affairs

11 Comments
This is the second time I'll be running the answer of Sen. Antonio Trillanes IV to allegations that he owned eight luxury vehicles not listed in his Statement of Assets, Liabilities and Net worth when he was a Philippine Navy officer.
JV Bautista, interim secretary general of the United Nationalist Alliance headed by Vice President Jejomar Binay,lambasted Trillanes Wednesday: "He styles himself as a moral crusader, but all these years he has evaded the issue of how he was able to afford eight luxury vehicles with his salary in the military and why he did not declare them in his SALN. This is a clear violation of the law."
This black propaganda about Trillanes owning luxury vehicles first came out immediately after the July 2003 mutiny by a group of young officers that included Trillanes against the government of Gloria Arroyo. They made their stand at the then Oakwood Hotel (now Ascott) at the Makati Commercial Center.
Read the rest of this post »

October 16, 2014 11:31 pm

Tags: Antonio Trillanes IV, Jejomar Binay Posted in: Uncategorized

11 Comments

By Ellen T.Tordesillas, VERA Files
The Ninoy Aquino International Airport, Teminal 1 (NAIA1) is no longer the worst airport in the world, according to an online website dedicated to reviewing airports all over the world.
NAIA is now No. four in the 2014 list of Worst Airports of "The Guide to Sleeping in Airports," outranked by Islamabad Benazir Bhutto International Airport in Pakistan (1st); Jeddah King Abdulaziz International Airport in Saudi Arabia (2nd); and Kathmandu Tribhuvan International Airport in Nepal (3rd).
The Guide to Sleeping in Airports explained the improvement in ranking of NAIA1:
Read the rest of this post »

October 16, 2014 10:13 pm

Tags: NAIA1 Posted in: Tourism, Travel, Vera Files

2 Comments
The suspected killer of transgender Jeffrey "Jennifer" Laude, Private First Class Joseph Scott Pemberton of the US Marine Corps 2nd Battalion 9th Marines, is in the custody of the United States.
A statement by the U.S. Embassy in Manila said Pemberton " is being held onboard USS Peleliu while a joint Naval Criminal Investigative Service and Philippine National Police investigation is conducted. The United States will continue to fully cooperate with Philippine law enforcement authorities in every aspect of the investigation."
USS Peleliu, which is in Subic Bay for PHIBLEX 15, a joint amphibious landing exercise, was due to leave Tuesday but its departure was put on hold because of this crime involving one of the American soldiers.
Read the rest of this post »

October 14, 2014 10:16 pm

Tags: Jennifer Laude, Joseph Pemberton, VFA Posted in: Foreign Affairs, Malaya

42 Comments
While we are riveted to the splendor of Hacienda Binay's Kew Gardens and air-conditioned piggery, let us not forget Philippine National Police Chief Alan Purisima and his questionable acts as a public official.
The public should be more vigilant of the Purisima case because no less than President Aquino is protecting him, vouching for the Police chief's integrity despite blatant violation of ethical standards set for government officials.
Talking with reporters in Indonesia, Aquino said, "Natuwa ako noong sinama niya lahat sa bahay niya sa Nueva Ecija. Iyon, gawain ng tao na hindi nagtatago."
What kind of logic is that? Allowing media to see his vacation villa in a 4.5 hectare property in Nueva Ecija does not answer the questions of how he acquired it at a cheap price and how he was able to build a nice four-bedroom vacation house complete with swimming pool, gazebo and a nipa hut out of his salary as a police officer.
It is PR.
Read the rest of this post »

October 12, 2014 9:11 pm

Tags: Alan Purisima Posted in: Benigno Aquino III, Graft and corruption, Philippine National Police

11 Comments
Vice President Jejomar Binay's 350-hectare luxury estate is so stunning, stupefying and appalling he can kiss his 2016 presidential plans goodbye.
The images shown of Binay's sprawling property in Batangas during the hearing of the Senate Blue Ribbon subcommittee assault many aspects of the ordinary citizens' senses: sense of values, sense of propriety, sense of proportion.
To give the public an idea of how big 350 hectares is, former Makati Vice Mayor Ernesto Mercado said the Binay farm is equivalent to "six Luneta Parks, 10 Araneta Centers or even half the 700 hectare San Juan city.
Read the rest of this post »

October 9, 2014 10:27 pm

Tags: Jejomar Binay Posted in: 2016 elections, Malaya

58 Comments
Is anyone surprised that Ninoy Aquino International Airport is once again the topnotcher in the list of worst airports in the world?
The Sept. 30, 2014 post in the website Life Cheat Sheet said "Airports are often an essential and unavoidable part of traveling. Sometimes, you luck out and find yourself in an airport that has minimal wait times and is full of shops, restaurants, and polite staff. Unfortunately, that is not always the case."
It listed 10 worst airports known for "having rude staff, long lines, poor facilities, and a chaotic environment. "
Life Cheat Sheet website cited NAIA1's feature that beat competitors hands down: "This Manila-based airport struggles with the 32 million passengers who use its facility each year. That shouldn't come as a shock, though, considering it only has the capacity for 6 million passengers, according to CNBC.
Read the rest of this post »

October 7, 2014 10:30 pm

Tags: NAIA1 Posted in: Travel

11 Comments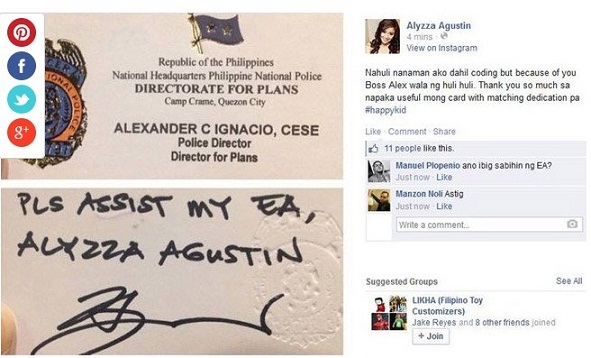 The incident involving car model Alyzza Agustin and Police Chief Superintendent Alexander Ignacio is one example of something good coming out of a stupid act.
God works in mysterious ways indeed.
Last Sept. 28, Agustin, who apparently enjoys social media but does not comprehend it's power and perils proudly posted in her Facebook and Instagram accounts that she was able to get away violating the number coding traffic scheme in Metro Manila by using a calling card Ignacio gave her.
She bragged: "Nahuli na naman ako dahil coding but because of you Boss Alex wala ng huli-huli. Thank you so much sa napaka-useful mong card with matching dedication pa."
Read the rest of this post »

October 6, 2014 12:22 am

Tags: Alexander Ignacio, Alyzza Agustin Posted in: Cyberspace, Philippine National Police

5 Comments
President Aquino's dogged defense of Police Chief Alan Purisima despite revelations of acts of irregularity and the public's frustration over breakdown of law and order, have led many to ask what's behind the closeness of the two.
While in New York last week, Aquino described the PNP Chief as ""not capricious." Back in Manila after information about the luxurious Nueva Ecija vacation house with an attic on a 4.5 hectare property with a separate pavilion, separate four- car garage with quarters, a 7.5m x 15m pool, Aquino maintains the line that criticisms against his administration are really meant to block reforms that he is instituting.
It should be recalled that in order to install Purisima as PNP chief before the 2013 elections, then PNP Chief Nicanor Bartolome was forced to retire three months before his retirement age of 56.
Read the rest of this post »

October 2, 2014 10:48 pm

Tags: 1987 coup, Alan Purisima Posted in: Benigno Aquino III, Peace and Order, Philippine National Police

10 Comments