So far, these are the facts about Monday's incident at the NAIA3:
At around 1:45 a.m. last Monday, operatives of the National Bureau of Investigation (NBI) arrested three men assembling improvised explosive devices (IEDs) inside a parked white Toyota sport utility vehicle at the parking lot of Ninoy Aquino International Airport Terminal 3.
The three were later identified as Grandeur Pepito Guerrero, Emmanuel San Pedro, and Sonny Yohanon.
News reports based on the NBI's report said the operatives found with the suspects plastic bottles of gasoline with firecrackers. The NBI also said seized firearms from three including one .38 caliber revolver.
They also found anti-China leaflets and other materials in the vehicle.
Read the rest of this post »

September 2, 2014 9:49 pm

Tags: Grandeur Guerrero, NAIA3 bomb plot Posted in: Malaya, Peace and Order

No Comments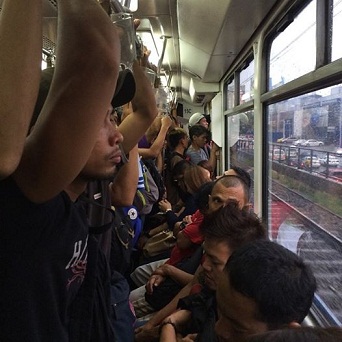 Issuing a challenge is the In thing now.
It was inspired by the ALS Ice Bucket Challenge. ALS is Amyotrophic Lateral Sclerosis, an incurable degenerative disease. Conceived by two Americans afflicted with ALS, the Ice Bucket Challenge asks someone to have a photo or video of him being drenched or he can drench himself with ice water or else donate $100 dollars to an ALS organization. He will then issue a challenge to more people daring to do the same or donate.
Or they can do both. The drenching and the challenge to other people should be posted in social media.
Never mind if many of those who had themselves on video being dumped with ice water on the head just wanted the publicity and didn't bother to know what ALS is all about. It's for a good cause anyway.
Read the rest of this post »

September 1, 2014 1:22 am

Tags: MRT Challenge Posted in: Governance, Malaya

No Comments
In the power point presentation Rep. Ashley Acedillo of the Magdalo Party showed last Wednesday, he compared the massive fortification and expansion of the Chinese of their occupied reefs in the disputed Spratlys area in the South China with the miserable state of the islands and reefs occupied by the Philippines.
Acedillo, in a privilege speech titled "Our country is in grave danger,"questioned what seems to be a government policy of benign neglect in our occupied territories in Spratlys.
"With an Air Force that can't protect our air space and a Navy that can't protect our maritime interest, claimant countries have accelerated their creeping occupation of our islands," said Acedillo, formerly an Air Force Officer who was detained for seven years for rebelling against Gloria Arroyo in what was known as "The Oakwood Mutiny."
Read the rest of this post »

August 28, 2014 11:22 pm

Tags: South China Sea, Spratlys Posted in: Malaya, South China Sea

8 Comments
Today's fad is the ALS Ice Bucket Challenge.
ALS stands for Amyotrophic lateral sclerosis described in a website on ALS as "a progressive neurodegenerative disease that affects nerve cells in the brain and the spinal cord. Motor neurons reach from the brain to the spinal cord and from the spinal cord to the muscles throughout the body. The progressive degeneration of the motor neurons in ALS eventually leads to their death. When the motor neurons die, the ability of the brain to initiate and control muscle movement is lost. With voluntary muscle action progressively affected, patients in the later stages of the disease may become totally paralyzed."
A friend who has a member of the family afflicted with ALS likened the patient to "a vegetable."
Read the rest of this post »

August 26, 2014 11:55 pm

Tags: ALS Ice Bbucket Challenge Posted in: Health, Malaya

No Comments
On weekend outings, it takes a lot of will power not to overeat.
The
Lake Hotel in Tagaytay
(where our group,
VERA Files,
held a writeshop on human trafficking last weekend) helps guests enjoy their vacation the healthy way.
Their breakfast buffet offers nutritious drinks: There's one for cleansing: a greenish concoction of red apple,Lemon, celery stalk, carrot, parsley stem, cucumber and ginger.
There is another one for those who want to lose weight. A mixture of carrots, cucumber, cabbage and orange. For diabetics, they a combination of carrot, celery, and green apple juice.
Read the rest of this post »

August 25, 2014 12:31 am

Tags: Body clock, Taal Lake Hotel Posted in: Health, Malaya

No Comments
What's wrong with working for a world where no one becomes a
desaparecido?
Apparently some people in India have a problem with that because Mary Aileen Diez Bacalso, secretary general of Asian Federation Against involuntary Disappearances (AFAD), was refused admission into India last Sunday and was sent back on the same Thai Airways plane which brought her to Mumbai.
Bacalso said when she asked why she was barred from entering India, an immigration official replied, "You should know."
Bacalso is widely recognized for her work against forced disappearances. Last year she was awarded by the Argentinian government the Emilio Mignone International Human Rights Prize "in recognition of her work against enforced disappearance in Asia and the world. "
Read the rest of this post »

August 22, 2014 1:49 am

Posted in: Human Rights, Malaya

4 Comments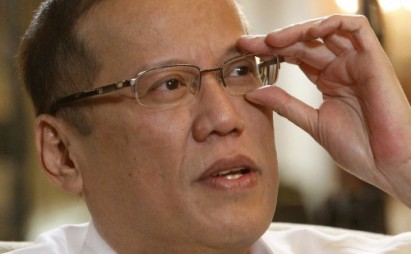 Faced with overwhelming opposition to a Charter Change to allow President Aquino to extend his term beyond 2016, Malacañang has backtracked and assured the public that he is not supporting changes in the Constitution in the last two years of his presidency.
Press Secretary Herminio Coloma Jr and Deputy Presidential Spokesperson Abigail Valte can resort to all kinds of spins but it is on record (TV5's interview Aug. 13 interview) that Aquino said he was open to charter change to clip the powers of the Supreme Court and to another term.
But why did Aquino float it in the first place?
We can think of five possible reasons:
Read the rest of this post »

August 17, 2014 10:40 pm

Posted in: Benigno Aquino III, Cha-Cha

33 Comments
Had former President Cory Aquino not died on Aug. 1, 2009, her son, Benigno Aquino III would not be in Malacañang today.
At the time of Cory's death, nine months before the May 2010 presidential elections, Noynoy Aquino, who had an unremarkable record as legislator (9 years as representative of the 2nd district of Tarlac and three years as senator), was not in anybody's mind for the highest position in the land.
He was catapulted to the presidency by the people's sympathy for his mother.
He owes his presidency to his mother.
Read the rest of this post »

August 14, 2014 7:26 pm

Tags: Benigno Aquino III, Cha-Cha, Cory Aquino Posted in: Benigno Aquino III, Cha-Cha

11 Comments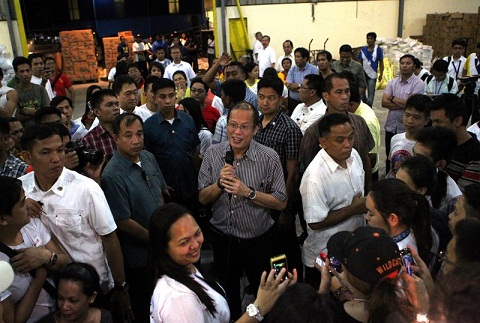 Take note that the Social Weather Stations survey showing a 16- point plunge in net satisfaction for the Aquino administration was conducted on June 27 – 30, 2014.
From 45 percent last March, satisfaction for general performance of the Aquino administration dropped to 29 percent in the June survey.
This was before the July 1 Supreme Court unanimous decision declaring the Disbursement Acceleration Program or DAP unconstitutional.
This was before Aquino went ballistic against the Supreme Court insisting on his own interpretation of the Constitution deliberately ignoring that under our system of government the final arbiter when it comes to legal issues is the Supreme Court.
Read the rest of this post »

August 13, 2014 8:57 am

Tags: Benigno Aquino III Posted in: Benigno Aquino III, Governance, surveys

10 Comments
The murderous Ampatuans must be enjoying the spectacle of the prosecutors in the Maguindanao massacre destroying each other.
Atty. Nena Santos, representing 25 of the of the 58 who were killed in a massacre in a secluded hill in Maguindanao on Nov. 23, 2009, has alleged that government and fellow private prosecutor Harry Roque, of having been bribed by the Ampatuans to lose the case.
Santos represents Maguindanao Governor Esmael Mangudadatu, husband of victim Genalyn Mangudadatu and political rival of the Ampatuan family.
It will be recalled that Genalyn, accompanied by family members, political associates and members of media were abducted while on their way to file the candidacy of Mangudadatu for governor against Andal Ampatuan Jr, son of the then incumbent, Andal Ampatuan Sr. They were brought to a secluded hill and killed by Andal Jr and his henchmen. Of the 58 killed, 34 were media workers, earning for the Philippines the reputation of one of the most dangerous places for journalists.
Read the rest of this post »

August 11, 2014 12:17 am

Tags: Harry Roque, Maguindanao massacre Posted in: Justice, Maguindanao massacre, Media

7 Comments