All these investigations on the alleged corruption of Vice President Jejomar Binay are primarily to level the playing field for the 2016 presidential elections.
That's because surveys showed that Binay is way, way ahead of other politicians who have ambitions to run for president in 2016.
When Pulse Asia asked 1,200 representative adults, 18 years old and above last June 24 through July 2, who they would vote for president if elections were held at that time, 41 percent said, "Binay." That's a good number. Analysts say that a presidential candidate has to have at least 40 per cent of the votes cast to win the presidency.
Read the rest of this post »

September 21, 2014 9:43 pm

Tags: Elections 2016, Jejomar Binay Posted in: Elections 2016, Malaya

13 Comments
Marlene Esperat, Gerry Ortega , Nilo Baculio, Romy Olea must be turning over in their graves now with President Aquino's latest insult against murdered journalists just to defend his administration's dismal record in putting a stop to the killing of journalists in the Philippines.
In Brussels last Tuesday, Aquino was asked about human rights violations in the country. In defending his administration, he cited as an example the killing of journalists that has earned for the Philippines the ignominious reputation of the third most dangerous place for journalists, next only to strife-torn Syria and Iraq.
"For instance, in the media killings, some who used to work in media died. Did they die because they were investigative journalists? Were they exercising their profession in a responsible manner, living up to journalistic ethics? Or did they perish because of other reasons?" Aquino said.
This is another example of Aquino's warped thinking.
Read the rest of this post »

September 18, 2014 8:44 pm

Tags: Gerry Ortega, Marlene Esperat, Nilo Baculio, Romy Olea Posted in: Human Rights, Malaya, Media

9 Comments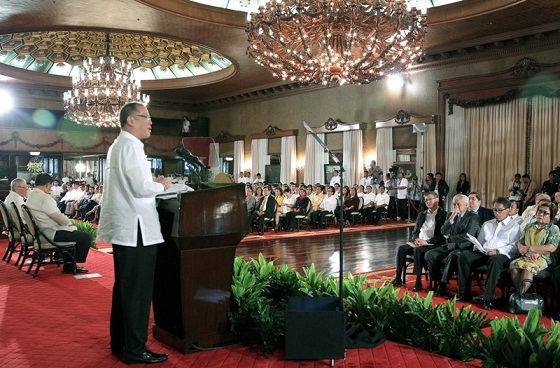 I have lost track counting the number of somersaults that President Aquino and his spokesmen have performed on the issue of whether he wants to stay in Malacañang after his term ends on June 30, 2016.
To save myself further aggravation, I decided to "like" President Aquino's Facebook Page which was brought to my attention by singer Leah Navarro.
Navarro, a certified PNoy loyalist, said: " Have any of you visited the President's Facebook page? It's Noynoy Aquino P-Noy . It has over four million likes. You'll see a clamor for the President to stay on for another term. It's pretty awesome – thousands of people have posted, commented on, or just 'liked' this suggestion that he stay on for another six years."
Read the rest of this post »

September 14, 2014 7:12 pm

Tags: Benigno Aquino III Posted in: Benigno Aquino III, Malaya

21 Comments
Bakit ba ang sa isip ni Pangulong Aquino ay utang na loob ng taumbayan kapag ginawa ng mga opisyal ng pamahalaan ang kanilang trabaho? Di ba kaya sila sinuswelduhan para magsilbi sa taumbayan?
At kapag pumalpak sila, dapat lang na batikusin sila ng taumbayan na siyang sumusweldo sa kanila.
Nagkaroon ng pangalawang SONA si Aquino noong Biyernes sa Malacañang sa harap ng kanyang mga kaalyado. Nakakatawa. Ito ang sinasabing "preaching to the choir." Nagse-sermon sa mga taong pareho ang pag-iisip sa kanya.
Read the rest of this post »

September 14, 2014 1:25 am

Tags: Alan Purisima, PNP Posted in: Abante

7 Comments
Social media, internet-based networking sites – the most popular of them Facebook and Twitter – has changed the world and our lives.
Social media is a communication tool and like all things in this world, its value depends on how users handle it.
What happened last Sept. 1, when a bypasser who witnessed a crime taking place in the middle of a major highway (EDSA) in broad daylight, captured the scene in his smartphone and posted the picture in Twitter, is an example of the upside of the digital technology and social media.
Read the rest of this post »

September 9, 2014 10:04 pm

Tags: Hulidap Posted in: Malaya, Peace and Order

2 Comments
China's 9-dashed line map, which was recently expanded to 10 dashes, goes against the "concept of global commons" which was the foundation of the 1982 United Nations Convention of the Law of the Sea, Senior Associate Justice Antonio Carpio said in a speech delivered on the 75th Anniversary of the College of Law of the University of San Agustin in Iloilo City last Aug. 30.
Thus,Carpio said, China fisheries laws particularly giving Hainan, China southernmost province, exclusive jurisdiction over the waters in the South China Sea as well as on the fishery resources of Macclesfield Bank is "a grand theft of the global commons in the South China Sea."

Read the rest of this post »

September 7, 2014 10:10 pm

Tags: Antonio Carpio, China, Global Commons, Hainan Posted in: Foreign Affairs, Malaya, South China Sea

One Comment
This will either make you laugh or cry.
Last Monday over dinner, lawyer Ven Canta shared with us something that intrigued him when he visited the Philippine Government Electronic Procurement System or PhilGeps website.
Read the rest of this post »

September 4, 2014 8:47 pm

Tags: MIAA Posted in: Governance, Malaya

One Comment
So far, these are the facts about Monday's incident at the NAIA3:
At around 1:45 a.m. last Monday, operatives of the National Bureau of Investigation (NBI) arrested three men assembling improvised explosive devices (IEDs) inside a parked white Toyota sport utility vehicle at the parking lot of Ninoy Aquino International Airport Terminal 3.
The three were later identified as Grandeur Pepito Guerrero, Emmanuel San Pedro, and Sonny Yohanon.
News reports based on the NBI's report said the operatives found with the suspects plastic bottles of gasoline with firecrackers. The NBI also said seized firearms from three including one .38 caliber revolver.
They also found anti-China leaflets and other materials in the vehicle.
Read the rest of this post »

September 2, 2014 9:49 pm

Tags: Grandeur Guerrero, NAIA3 bomb plot Posted in: Malaya, Peace and Order

One Comment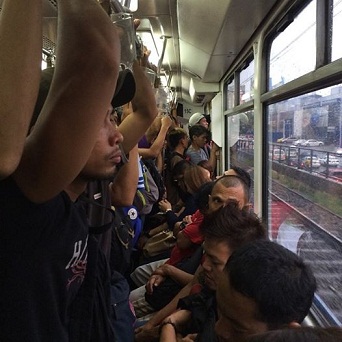 Issuing a challenge is the In thing now.
It was inspired by the ALS Ice Bucket Challenge. ALS is Amyotrophic Lateral Sclerosis, an incurable degenerative disease. Conceived by two Americans afflicted with ALS, the Ice Bucket Challenge asks someone to have a photo or video of him being drenched or he can drench himself with ice water or else donate $100 dollars to an ALS organization. He will then issue a challenge to more people daring to do the same or donate.
Or they can do both. The drenching and the challenge to other people should be posted in social media.
Never mind if many of those who had themselves on video being dumped with ice water on the head just wanted the publicity and didn't bother to know what ALS is all about. It's for a good cause anyway.
Read the rest of this post »

September 1, 2014 1:22 am

Tags: MRT Challenge Posted in: Governance, Malaya

No Comments
In the power point presentation Rep. Ashley Acedillo of the Magdalo Party showed last Wednesday, he compared the massive fortification and expansion of the Chinese of their occupied reefs in the disputed Spratlys area in the South China with the miserable state of the islands and reefs occupied by the Philippines.
Acedillo, in a privilege speech titled "Our country is in grave danger,"questioned what seems to be a government policy of benign neglect in our occupied territories in Spratlys.
"With an Air Force that can't protect our air space and a Navy that can't protect our maritime interest, claimant countries have accelerated their creeping occupation of our islands," said Acedillo, formerly an Air Force Officer who was detained for seven years for rebelling against Gloria Arroyo in what was known as "The Oakwood Mutiny."
Read the rest of this post »

August 28, 2014 11:22 pm

Tags: South China Sea, Spratlys Posted in: Malaya, South China Sea

10 Comments