Ager Ontog, director-general of the National Intelligence Coordinating Agency (NICA), who showed his lack of intelligence when he ordered the ban of Hongkong journalists who asked questions that displeased President Aquino during the 2013 summit of Asia Pacific Economic Conference in Bali, Indonesia, said he did not regret his order that Malacañang cancelled after it was exposed in media last week.
There are military officers who are enlightened about the role of media in a democracy but it seems that Ontog is not one of them. Which is not really surprising because even President Aquino, whose parents played a big part in Filipino people struggle to regain their freedom, including press freedom, thinks it's media's obligation to make him look good in public.
Servants take their cue from the master.
Read the rest of this post »

November 25, 2014 11:58 pm

Posted in: Malaya, Media

10 Comments

Five years ago, a crime so heinous was perpetrated by persons in authority, in a remote village in Maguindanao in Southwestern Mindanao.
Fifty-eight persons lay dead after Andal Ampatuan, Jr., mayor of Datu Unsay town and his men were through with their shooting spree. He then asked for a backhoe in the office of his father, Andal Ampatuan Sr., who was then governor of the province, to be brought to the crime scene to bury the dead bodies.
Among the dead was Genalyn Mangudadatu, wife of the political rival of the Ampatuans, Esmael "Toto" Mangudadatu, who was supposed to file the certificate of candidacy of her husband challenging the position of the Ampatuan patriarch.
Of the 58 victims, 32 were members of media, who were supposed to cover the political event.
Read the rest of this post »

November 23, 2014 9:09 am

Tags: Maguindanao massacre Posted in: Human Rights, Justice, Maguindanao massacre, Malaya, Media

5 Comments
I'm staggered by the justifications of Health Acting Secretary Janet Garin and Armed Forces Chief Gregorio Pio Catapang,Jr.of their visit to the quarantined peacekeepers in Caballo Island in Cavite which Malacañang approves.
Garin and Catapang have drawn flak for what many see as violation of the idea of quarantine.
The peacekeepers from Ebola-stricken Liberia are on 21-day quarantine, an international procedure to prevent the deadly virus from spreading.
Read the rest of this post »

November 20, 2014 11:02 pm

Tags: Ebola, Janet Garin, Pio Catapang Posted in: Health, Malaya

23 Comments
By Ellen T. Tordesillas, VERA Files
Manicani today hardly bears signs of the havoc wrought by supertyphoon "Yolanda" (international name: Haiyan) a year ago.
Color is back on this 11.7-square-kilometer island of 3,000 people in Guiuan, Eastern Samar, which was a harrowing picture of destruction only 12 months ago after Yolanda ferociously battered it for straight four hours.
The roofless or flattened houses, destroyed concrete structures, uprooted trees and toppled posts are almost gone. In their stead are houses painted green, yellow, blue, red and pink, many with vegetable and flower gardens.
The houses were built by the homeowners themselves, courtesy of the cash for work program of the mining company Nickel Asia Corp. (NAC). Berthed on shore near many homes were new fishing boats, which the islanders requested from NAC officials when asked after Yolanda what they wanted aside from a decent shelter.
A 25- to 30-minute boat ride from Guiuan, Manicani during World War II was a United States Navy naval repair facility. It's primarily a fishing community today.
Read the rest of this post »

November 19, 2014 11:49 pm

Tags: Manicani, Nickel Asia Corporation, Typhoon Yolanda Posted in: Disasters, General

2 Comments
After Vice President Jejomar Binay backed out of the scheduled debate, which he himself suggested, with Sen. Antonio Trillanes IV, many asked if he is also reconsidering his announced presidential bid in 2016.
Binay immediately shut down the idea re-assuring his allies that there is no backing out of his ambition to be the next president of the Philippines, something that shudders many who imagine the level of corruption would it be under his presidency.
Binay gave the reason why he is pursuing his presidential plans despite the perception that he is severely damaged: "Napakalaki ng lamang ko. Never in the history na may ganun, hindi naman ganun kaagad ang lamang" (I keep a wide lead in surveys. Never in history that someone is leading the race by a wide margin)."
Which is true.
Read the rest of this post »

November 16, 2014 11:10 pm

Tags: Antonio Trillanes IV, Jejomar Binay Posted in: Elections 2016, Graft and corruption

22 Comments
It took only ten minutes under the chilly air at the lakeside garden in the suburb of Beijing to thaw the two-year frosty relationship between the Philippines and China.
President Aquino and Chinese President Xi Jinping pulled aside during the tree-planting ceremony last Nov. 11 at at the Summer Garden of the International Conference Center at Yanqi Lake, where 21 leaders of the Asia pacific Economic Cooperation (APEC) met the day before, talked briefly, both expressing the desire for relations between their the two countries to improve from a severely strained connection that it is now.
Aquino described the 10-minute talk which was pre-arranged (they did not have a formal meeting which usually lasts 25 to 30 minutes) as "Medyo extensive" reflecting the importance he attached to it and what the brief meeting achieved.
Read the rest of this post »

November 13, 2014 10:30 pm

Tags: APEC 2014; Xi Jinping, Benigno Aquino III Posted in: Foreign Affairs

6 Comments
No one is really surprised that Vice President Jejomar Binay backed out of the Nov. 27 debate with Sen. Antonio Trillanes IV which he himself suggested to the Kapisanan ng mga Brodkaster sa Pilipinas.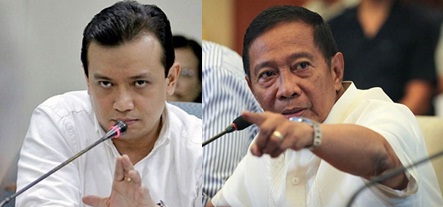 When the debate was starting to take a life of its own after he mentioned it to KBP President Herman Basbaño last October and Trillanes accepted the challenge, Binay was just waiting for an opportunity to back out.
The opportunity happened yesterday during his 72nd birthday celebration at the Philippine Marines headquarters.
He was asked about Trillanes' statements that he was going into the much-publicized activity fully aware that the vice president, a lawyer, has an advantage as far as debating skills are concerned. But the senator, who was formerly a Philippine Navy officer said, he is on the side of truth.
Read the rest of this post »

November 11, 2014 9:41 pm

Tags: Antonio Trillanes IV, Jejomar Binay Posted in: 2016 elections, Graft and corruption

55 Comments
President Aquino today is in a lakeside resort in Yanqihu, 50 kilometers from Beijing, for the 22nd summit of Asia Pacific Economic Cooperation or APEC.
This is the first time that Aquino and Chinese President Xi Jinping will have a chance for greetings more than just "hello" and "goodbye".
Aquino has announced there is no scheduled bilateral meeting between him and Xi during the two-day Beijing summit.
The Department of Foreign Affairs was working on a pull-aside meeting (about 10 to 15 minutes) on the sidelines of the Summit but if even that is not possible they see a chance "to break the ice" in the frosty relations between the two countries during the turnover of the hosting Leaders Meeting towards the end of the meeting on Tuesday.
Read the rest of this post »

November 9, 2014 9:54 pm

Tags: APEC 2014 Posted in: Benigno Aquino III, Foreign Affairs, Malaya

No Comments
GUIUAN, Eastern Samar – It was in this town at the southernmost tip of Samar Island that typhoon Yolanda (international name, Haiyan), packing winds at 380 kilometers per hour, that made its first landfall at wee hours of Nov. 8, one year ago.
After four hours of howling, spine-tingling winds, only a few buildings and houses remained with roofs. Electric posts were toppled. Trees were uprooted. The sturdy coconut trees looked beaten with leaves dangling from the top.
Of the more than 47,000 population of Guiuan, more than two thousand were injured. A hundred perished.
Read the rest of this post »

November 6, 2014 11:35 pm

Tags: Guiuan, Manicani, Yolanda Posted in: Disasters, Malaya, Uncategorized

5 Comments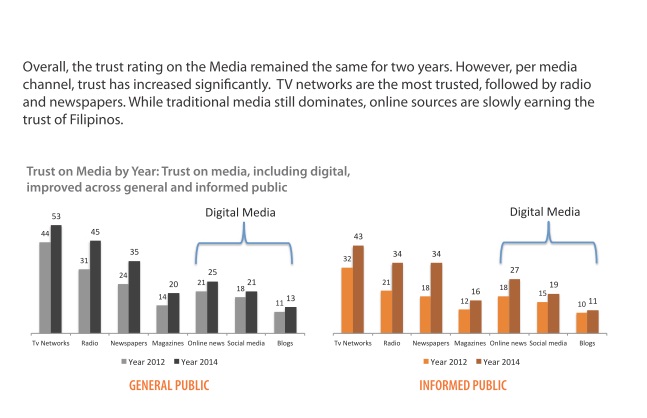 The PDAF and DAP scandals have a lot to do with the increase in the trust of the people on media, the decline of the same for the government and continued distrust for non-government organizations.
The 2014 Philippine Trust Index conducted by EON showed that media is third most trusted institution with 33 percent, up from 32 per cent last year. First is the Church, which includes not only Catholic Church but also other denominations, with 75 percent, up from last year's 68 percent.
Academe comes second with 53 percent, up from last year's 45 percent.
The least trusted institution is the government with 11 percent, down from 15 per cent last year, followed by NGO with 12 percent, the same as last year's.
Read the rest of this post »

November 3, 2014 8:20 am

Tags: EON, Media, PTI Posted in: Malaya, Media, surveys

4 Comments