Lawyer talks on fake ERs made at veranda
ELECTION lawyer Roque Bello yesterday said it was possible it was his veranda that was caught in pictures of alleged faking of election returns to support the victory of Gloria Arroyo over Fernando Poe Jr. in the 2004 election.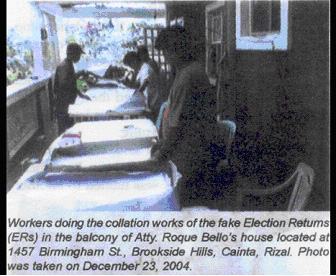 In a telephone interview with Pia Hontiveros on ANC's Top Story, Bello denied involvement, however, in the alleged manufacturing of fake returns.
Shown one of the pictures on the TV screen, Bello complained the picture was blurred but volunteered the information that his is a two-story house on 1547 Birmingham st., Brookside Hills, Cainta, Rizal.
An article in Newsbreak magazine said the fake ERs were produced at "1457 Birmingham," apparently a typographical error.
Asked by Hontiveros if he was confirming that it was his house and his veranda, Bello said, "this veranda is above my driveway."
Asked further if he was confirming the photograph was that of his house, Bello said, "It's possible."
Bello, a retired Comelec regional director, said the persons in the picture were examining election returns of some of his clients.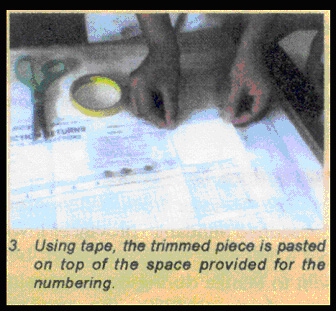 When shown two other pictures of operators cutting and pasting serial numbers, Bello said, "Yes. The numbers ba, because this is one of the ways that you can determine whether the election returns are fake or note. We cut the paper then paste it to try to get the exact diameter or size so we can compare them with copies of teh Comelec."
In its Sept. 12, 2005 issue, Newsbreak said Bello's group manufactured 6,000 fake ERS to match the tampered COCs which were allegedly done by Comelec Commissioner Virgilio Garcillano in favor of Arroyo during the canvassing of the 2004 elections. The tampered COCs were the basis of the proclamation of Arroyo as winner.
Newsbreak said, "The opposition had alleged – and our administration sources later confirmed – that in the administration's haste to cheat Poe in those areas, his bailiwicks, Garcillano's group simply switched the votes of Arroyo and Poe in the COCs. They left the ERs untouched."
Newsbreak said Bello's group had to manufacture ERs that match the COCs in anticipation of the opening of ballot boxes in connection with the protest filed by Poe.
The fake ERs were placed inside ballot boxes which replaced the real ones kept at the Batasan.
The photographs of the alleged production of fake ERs surfaced last week.

March 16, 2006 12:10 am

Posted in: Malaya