Day of infamy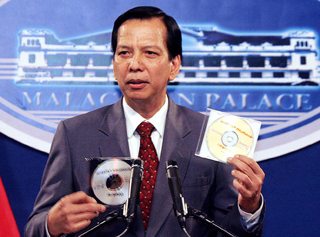 Until Press Secretary Ignacio Bunye held up the two discs, in what turned out to be the start of an elaborate and devious attempt to hide Gloria Arroyo's cheating in the 2004 elections, I associated June 6 with D-Day, the invasion of Normandy on June 6, 1944.
On June 6, 1944, allied forces landed on the coast of Normandy in northern France, and started the liberation of Europe from Nazi occupation.
It was a different kind of invasion that the Filipino people experienced June 6 last year. Courtesy of Bunye, we heard, for the first time, the conversations between Gloria Arroyo and Comelec Commissioner Virgilio Garcillano about how they were going about thwarting the will of the people expressed in the 2004 elections. The public clearly heard Arroyo's grating voice greeting Garcillano "Hello, Garci…" before she gave instructions how to alter the election results in her favor.
Bunye made another assault on truth. Holding up the two discs, he said one was authentic and the other one doctored. Unblinking, he looked straight at TV cameras lying: "While we cannot at this time confirm the authenticity of either version, we can today confirm by virtue of these findings, another opposition plot to destabilize the administration of President Arroyo."
Bunye continued, revealing what later turned out to be their operation: "This latest plot, by far the most devious and desperate, involves the illegal bugging of a conversation and the subsequent electronic doctoring, alteration and revision of that so as to introduce elements that were not really there."
Days later, the truth became clearer to the public. The tape that Bunye said was doctored was the authentic tape. The tape that he said was "authentic" was what they doctored using Gary Ruado, a staff of Rep. Iggy Arroyo.
Three weeks later, on June 21, Arroyo came out on TV apologizing for her "lapse in judgment" in calling "a Comelec official" but not identifying Garcillano by name. "I am sorry," she said.
Days later, Arroyo castigated Social Services Secretary Dinky Soliman and other members of her cabinet who convinced her to admit her crime and apologize to the people. She said it was time to use "muscle" against her critics.
On July 8, ten of Arroyo's cabinet members resigned and called on her to resign saying that all her moves since the June 6 disclosure of the Hello Garci tapes had not been guided by the national interest but "mainly by her determination to survive as president." The ten were Florencio Abad, Education; Juan Santos, Trade and Industry; Cesar Purisima, Finance; Emilia Boncodin, Budget and Management; Imelda Nicolas, National Anti-Poverty Commission; Ging Deles, peace adviser; Dinky Soliman, Social Welfare and Development; Rene Villa, Agrarian Reform; Alberto Lina, Bureau of Customs, and Guillermo Parayno, Bureau of Internal Revenue.
The public's disdain for a cheating and lying president was reflected in a telephone survey in Metro Manila conducted by the Social Weather Station. Sixty-two percent said Arroyo should resign. The number of those who wanted Arroyo out would increase in subsequent surveys.
What followed were more lies upon lies. Then Environment Secretary (now presidential chief of staff) Mike Defensor made his "I have two experts" presentation in an attempt to undermine the authenticity of the "Hello Garci " tapes.
Defensor's operation flopped when one of his experts confirmed the authenticity of the "Hello Garci" tapes after the press conference.
An impeachment complaint was filed at the House of Representatives. Using its vast resources, even post-dated checks, Malacañang succeeded in killing the impeachment complaint. Later this month, an impeachment complaint will haunt Arroyo again.
When lies were no longer effective, Arroyo resorted to force, trashing the Constitution in the process. She used Calibrated Pre-emptive Response to suppress the people's freedom of expression and assembly. She castrated the Senate that refused to be subservient to her with EO 464. When dissent escalated, she issued Proclamation 1017 declaring a state of national emergency.
All three have been declared unconstitutional by the Supreme Court.
Covering all bases, Arroyo is pushing for charter change to make herself more powerful with unlimited term of office.
Bunye celebrated one year of his "I have two discs" performance with gloating that they are still lording it in Malacañang.
Yesterday was 6-6-6, an ominous number, the superstitious say. The mystery around that date is traced to Revelation 13:18 which states "This calls for wisdom: let him who has understanding reckon the number of the beast, for it is a human number, its number is six hundred and sixty-six."
A Jesuit priest, Fr. Felix Just, said the Book of Revelation isn't prophesying a specific end of times but "is about the overall cosmic struggle of good versus evil."
That's what the "Hello Garci" controversy is all about.
(Photo from Wikipedia)

June 7, 2006 12:52 am

Posted in: Malaya