Back to the original sin
There's no doubt, at this point, that the classroom hours spent by Ombudsman Merceditas Gutierrez and Mike Arroyo together have produced a special relation worth sacrificing national interests and risking damage of institutions.
It is clear that Malacañang is protecting Comelec Chairman Benjamin Abalos. Malaya yesterday carried a story by Peter Tabingo exposing a 45-page findings by the Ombudsman's panel of investigators dated June 23, 2005 on the P1.3 billion stink that was the Comelec-Mega Pacific Solutions poll automation deal.
Tabingo reported the 2005 resolution categorically stated that "With regard to the liability of the Comelec Chairman and the Commissioners, this Office finds that probable cause exists for charging them with a violation of Section 3 (e) (of RA 3019) except (Commissioner) Rufino SB Javier (who) has not participated in the award of the project as he was then on official business trip."

The existence of the 2005 resolution belies the lame excuse of Gutierrez that the reason Commissioner Resurrecion Borra was the only one recommended for impeachment in their report last Friday was because they have not yet competed the investigation.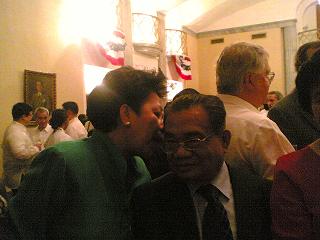 It will be recalled that Gutierrez was forced to release their findings on the Mega Pacific deal after the Supreme Court warned her last April of contempt. Earlier, she even told the high court that the OMB, being a constitutionally independent body, has no duty to render reports on the status of the deal which was declared null and void January 2004.
The SC's strong warning to Gutierrez: "We sternly remind the OMB: this court will not hesitate to exercise its power of contempt against anyone (including thr OMB) who fails to observe due respect of its directives, mandates, orders and judgments.
"Deference to the courts's simple order should have prompted the OMB to act on its responsibility to inform us of its actions regarding the case. Thus we strongly remind it to be more prudent in performing its basic constitutional duty and in following the directive of the Court.
The Ombudsman's puzzling findings raised two issues: One,why did Gutierrez single out Borra?. Two, why is she protecting Abalos?
A number of commentators have pointed out Borra's startling admission before the Senate Senate Committee on National Defense last April that, "From the actual and empirical pieces of evidence [presented at the Senate probe], there was cheating. There was cheating in some areas. There was massive cheating in some areas but hopefully very minimal."
There's another reason. Uniffors, the underground union of foreign service officers, highlighted a portion of the "Hello Garci" tapes where Comelec Commissioner Virgilio Garcillano was talking to Wynne Asdala, a lawyer in the Comelec legal department.
Here's the revealing exchange that mentioned Borra past noon of June 6, 2004: Garcillano: Hello.
Atty. Asdala: Good morning Commissioner. Atty. Asdala.
Garcillano: Nasaan ka?
Atty. Asdala: Cotabato. Supposed to be mag-convene kami kahapon (garbled). Pero Commissioner, ito nga ang problema ko, yung sa kay Teng ba. Kay Teng Mangudadatu. May kwan kasi dito, may pahabol si Barbers. Ang ginawa nila, itong Talitay tsaka Columbio, gusto nilang magsubmit ng bagong COC at tsaka SOV para mahabol yung si Barbers.
Garcillano: Wala na.
Atty. Asdala: Sabi ko sa kanila hindi kako problema si Commissioner Garcillano pero nakita ko kay Borra, iba kasi si Borra, walang isip itong kwan nya, baka imbes na kwan baka ipitin pa ako.
Garcillano: Huwag na, anyway, nagtabot na, nag-usap na kami.
Atty. Asdala: Kasi kako, pag walang blessing ng commissioner.
Garcillano: Baka masira ka eh.
Atty. Asdala: Oo.
Garcillano: O wala na?
Atty. Asdala: Sige Commissioner, ganun na lang, sabihin ko na lang. Thank you, thank you.
Garcillano: Ok, Ok.
The apparent persecution of Borra and the favored treatment of Abalos go back to the rigging of the 2004 election: Gloria Arroyo's original sin.
(Photo of Borra with former Comelec Chairman Harriet Demetriou was taken last night during the July 4 reception at the U.S. Embassy. Sorry for the poor quality of the picture. There was inadequate light.)

July 5, 2006 8:39 am

Posted in: Malaya