Backfire
Retired Commodore Rex Robles said the release of the tape showing Brig. Gen. Danny Lim announcing withdrawal of support from a "bogus president" is a "knife that can cut both ways."
Malacañang may use it to support its claim that there was a planned attempt against Gloria Arroyo's presidency, which is what presidential chief of staff Mike Defensor and Justice Secretary Raul Gonzales have been crowing about since Monday when ABS-CBN first showed it in their reformatted late evening news, "Bandila".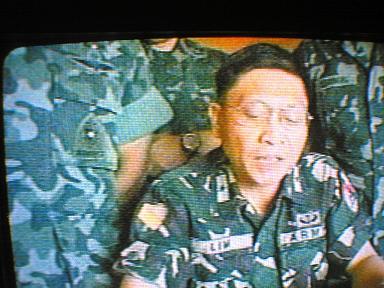 On the other hand, Robles said, it can also backfire because it allows Lim to disseminate his message publicly which is close to the hearts of military officers who have not lost their idealism. He noted that Lim and the officers implicated with him, like Col. Ariel Querubin, are bemedalled and respected. "They are credible," he said.

Contrast that to Lim's accusers who are either implicated in the Hello Garci tapes or in the cover up on the role of the military in the rigging of the 2004 elections.
The contest in credibility was most stark when the ABS-CBN showed the portion of the tape where Lim was saying, "We cannot stand idly by while the rule of law, the moral order and the integrity of our institutions, the very future of our country and people and our own professional careers are destroyed by this bogus president."
Army Chief Hermogenes Esperon was also shown reacting to it, saying, "He can allege that but who is he to judge the President to be a bogus President when we went through all these electoral process and she (Arroyo) is the duly constituted authority?"
Between the two, who would the Filipino public believe? Credible surveys showed that a large majority of Filipinos believe Arroyo cheated in the 2004 elections. And who was one of the military officers used in the cheating as mentioned in the "Hello Garci" tapes? Esperon!
Robles also raised another interesting point. "What happened now to their scenario that (former military officer and senator) Greg Honasan was the brains behind the plot to oust Arroyo? They even put a P5 million price for his head. Different names now are being mentioned. There's Oscar Orbos and Rene de Villa. There's something incongruent there."
Last March, the Armed Forces of the Philippines released a documentary "Paglaban sa Kataksilan: 1017″ to justify Arroyo's declaration of national emergency, arrests of persons undermining her presidency and clampdown on media. They mentioned an "Operation Hackle".
The documentary was largely based allegedly on documents seized from Lt. Lawrence San Juan, a member of the Magdalo group of soldiers who staged a mutiny at the Oakwood Hotel in July 2003. San Juan escaped last January 31 but was arrested in Batangas on Feb. 21.
"Paglaban sa Kataksilan: 1017″ claims that the Left (New People's Army) and the Right (disgruntled military, retired and active) have banded together to stage a "military action" to oust Arroyo and establish a transition government.
Sen. Rodolfo Biazon is of the opinion that the Danny Lim video was leaked to the media to determine the extent of grumbling in the military rank and file. He said military leaders are determining the effects of "legal actions that are possibly to be taken against those who are suspected to be participating in the events of February 24 and 26."
He said if the military leaders see no violent reaction on the leaked video, they would press on with charges against Lim and his group, and might charge more members of the Armed Forces. A former AFP chief of staff, Biazon called on the AFP leadership "to be careful about the handling (of) the issue."
There are also suspicions that Malacañang released it so it could be used to counter the second impeachment complaint filed before the House of Representatives.
One of the three main charges in the new impeachment complaint is Arroyo's issuance of Proclamation 1017 as part of her "dictatorial powers to silence, if not stifle, political dissent arising from her illegitimate presidency."
Biazon raised the question which was also asked by Parañaque Rep. Roilo Golez, "If it was not wrong for then AFP chief of Staff Angelo Reyes to withdraw support from President Estrada in 2001, why is it wrong for Lim to withdraw support from Arroyo."
Justice Secretary Raul Gonzalez' answer is classic and should be engraved in the Hall of Justice: "If it succeeds, it's a patriotic act. If it fails, it's a crime."
It clearly lays down the rule of might, not of the law, that prevails in the administration of Gloria Arroyo.
The Danny Lim video brings back once again many issues related to the Hello Garci tape. In fact, Lim can use the argument of Mike Defensor when he presented two experts to undermine the authenticity of the "Hello Garci" tape.
Defensor and his experts (only one, Jonathan Tiongco, remained after the other one said he was just invited to the forum and didn't know that he would be used to bolster something he did not agree with) argued that in this day and age, digital technology allows one to mix voices and images. Thus his famous quote, "It was the voice of the president but it was not the president speaking."
When Lim goes to the NBI, he can borrow Defensor's quote and said, "It's my face and my voice but it's not me speaking."
If NBI refuses to accept that, does it mean they also think Defensor was lying and that it was really Arroyo in the tape telling Comelec Garcillano to "dagdag! dagdag!" (pad) her votes? They have to be consistent.

July 7, 2006 7:20 am

Posted in: Malaya