Celebrating life with Tony Modena
Tony Modena, one of my journalism mentors, would have given me a tongue-lashing for not getting the story right under my nose. I got scooped. In newspapering, that's a crime.
I didn't know that Tony was sick. I talked with him last December by phone and we even planned of getting together with Yvonne Chua and Chit Estela, former Malaya editors who are now UP professors, before he went back to Israel. He never mentioned he was battling cancer of the lungs.
I was shocked last Saturday afternoon when I got a text from Charity (Mrs. Modena): "We, his family, thank you for sending Tony off with prayers. He passed away today."

I will miss Tony Modena, his rambunctiousness, his irreverence.
Tony is known to many as the "undiplomatic" diplomat who, as ambassador to Israel, blasted at Israeli authorities likening the maltreatment of Filipino workers to how the "German Nazis behaved toward the Jews."
That's Tony. He was not the traditional diplomat who would pretend indifference when Filipinos are insulted. Tony knows that as the Philippine ambassador, his job is to protect Philippine interests and Filipino nationals in that country. If that meant calling a spade a spade, he'll do that.
I have many fond memories of Tony as my editor when I was covering the foreign affairs and science beats.
I did a three-part series on Vietnam on my visit to that country in 1984, when it was still recovering from almost two decades of war with the United States. Vietnam was not yet the favorite tourist destination and emerging economy that it is now.
After going over my report, he returned it to me with a reprimand: "Don't give me these b.s. propaganda that the officials gave you. Tell your readers about what you saw."
I did as told. I discarded the official claim of factory outputs and wrote about the barren farmlands poisoned by Agent Orange courtesy of the US, the coils of barbed wire in the middle of rice fields that used to separate life from death for many Vietnamese, malnourished Amerasian kids peddling food on the streets. It turned out to be one of my favorite articles.
As harsh as he could be with his critique, he could also be sweet. I once walked out crying when I couldn't stand anymore his scoldings while we were doing the science page. The next day, there were red roses for me from Tony.
I had always been impressed with Tony's intellect. When he was preparing to join the foreign service, I would hear him utter French expressions and I thought he spoke French.
From Vietnam, I brought as pasalubong for my officemates the English translation of Ho Chi Minh's Prison Diary. For Tony and another editor, Ester Dipasupil, who studied in Sorbonne University, I got the original French version.
Tony asked if I could give him the English version. I told him, "I precisely got for you the French version because you are one of the two people here in Malaya who speak French." He confessed, "You overestimate me. I don't speak French yet."
I had to give him my copy. I should have given him back his French version when he got assigned in Paris.
When my friends and I went on a Eurail tour in 1994, Tony patiently sat down with us and helped plan our itinerary, giving us tips like how to save on hotel expenses (take the midnight train to your next destination), where to get the best apple struddle in Berlin (we couldn't find the restaurant), etc. etc.
Typically Tony Modena, his tips went something like, "Don't miss going to Montmarte so you can boast 'I walked the street where Pablo Picasso and Tony Modena once walked'."
When I talked with Charity yesterday, she said, "if you have pictures of Tony, please bring them. I'd like his wake to be a celebration of life."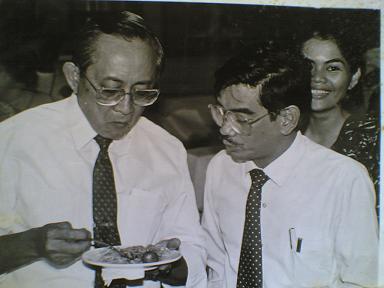 I went through my files and I got this photo of Tony with President Fidel Ramos when the latter made the media rounds right after his election in 1992. That's the way I would like to remember Tony.
Tony's remains lies in state at the Funeraria Paz on Araneta Avenue. Cremation will be on Saturday.

February 19, 2007 1:00 am

Posted in: Malaya