Myanmar crowd taunts soldiers and police
We salute the brave people of Myanmar fighting for freedom and democracy! We admire the monks who are leading the fight, risking their lives, against tyranny. What a far cry from our bishops, whose reaction to the Gloria Arroyo's assault to democractic institutions is a defeaning silence.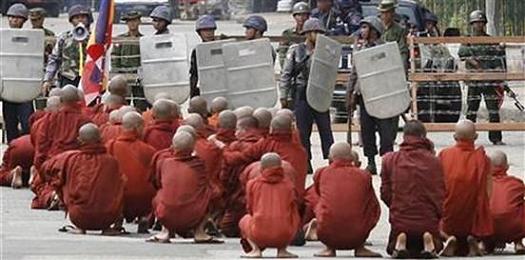 Authorities sealing-off central Yangon behind barbed-wire barricades

Update:Myanmar cuts internet access; fires at crowd
From MSNBC:
YANGON, Myanmar – Crowds taunted soldiers and police sealing off central Yangon behind barbed-wire barricades on Friday in anticipation of fresh protests against 45 years of military rule in Myanmar and deepening economic hardship.

The city of 5 million people was unusually empty as people stayed off the streets, scared of soldiers who fired on crowds of protesters on Thursday in scenes reminiscent of the army's ruthless crushing of an uprising in 1998.
Loudspeaker trucks toured the city of five million people warning against "protecting those fleeing arrest" after protesters were hidden by sympathizers enraged by violence against revered Buddhist monks and the shooting of demonstrators.
But crowds of people taunted soldiers in the city center, swearing at them and then running into side alleys when the troops feigned a charged, a witness said.
'We only want democracy'
Men were shouting at the soldiers in English: "[Expletive] you, army. We only want democracy," as truckloads of troops sealed off the area, moving wooden and barbed-wire barricades outwards block by block.
Activists said it would be almost impossible to stage demonstrations on the scale of those earlier in the week which prompted the crackdown, now in its third day.
The junta's violent response to the peaceful demonstrations, despite worldwide calls for restraint, drew a cacophony of diplomatic protests.
Even China, the closest the generals have to a friend, said it was "extremely concerned" and called for restraint.
The Association of South East Asian Nations, one of the few international groupings to have Myanmar as a member, went much further.
ASEAN, which works by consensus and hardly ever criticizes a member directly, expressed "revulsion" at the crackdown, which has ominous echoes of 1988, when the army killed an estimated 3,000 people in crushing a nationwide uprising.
Protests across Asia
There were protests across Asia as the Myanmar generals appeared to have cut off public access to the Internet through which news of their bloody crackdown in the isolated country reached the rest of the world.
In Canberra, some protesters were detained after a group of around 100 clashed with police while trying to charge the Myanmar embassy there. There were protests outside Myanmar embassies in Taiwan, Bangkok, Manila and Jakarta.
Myanmar state media said nine people were killed in Yangon on Thursday, but Australian Ambassador Bob Davis said the real toll could be far higher.
Asked for an unofficial estimate of the number of those killed, Davis told Australian Broadcasting Corp. radio: "Several multiples of the 10 acknowledged by the authorities."
One of the dead was a Japanese photographer, shot point-blank according to video footage, when soldiers charged crowds

September 28, 2007 7:15 pm

Posted in: General