Danny Lim and Our Lady of Peñafrancia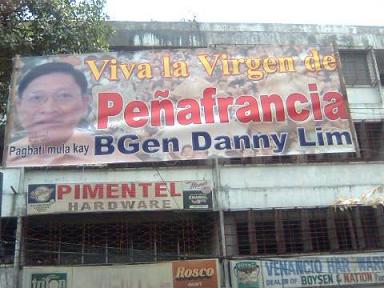 Last Saturday, as Bicolanos celebrated the feast of the Virgin of Peñafrancia something stirred the curiosity of those who joined the "traslacion", the procession transferring Ina, as they call image of Our Lady of Peñafrancia , from the basilica to the Metropolitan Cathedral of Naga City.
Around the city, there were several streamers that proclaimed "Viva la Virgen de Peñafrancia". Below was the name and photo of Brig. Gen. Danny Lim, who is now in detention for allegedly planning to withdraw support from Gloria Arroyo in February 2006 following the expose of the Hello Garci tapes and in November 2007 following more scandals the most bewildering of which is the NBN/ZTE deal.

There were several reactions to the poster ranging from "What's his plan?" to "Is he running for senator?" to "Guapo pala si Gen. Lim?"
I asked a friend of Gen. Lim and he said "Danny is a devotee of the Virgin of Peñafrancia. When Danny was a battalion commander in Camarines Sur, he often visited "Ina" at the basilica and always joined the traslacion incognito."
Another sent me this info: "BGen Danny Lim commanded the 42nd Infantry Battalion, PA based in Bicol Region in 2000/2001. His area of responsibility covered the whole province of Camarines Sur and parts of Albay. He is well-loved and highly respected there and has many friends especially in Naga City."
I posted a picture of one of the streamers in my blog and here are some of the reactions:
Parasabayan: "Sobrang aga naman yata ng posters ni Gen Lim! Although his candidacy would be a welcome thing. The only thing is, we do not know yet if there will be a 2010 elections. Mukhang ayaw pang umalis ni evil bitch sa Malacañang."
Kabute sees no political color: "I think BGen. Lim is not campaigning. More likely he just wants to greet the Bicolanos whom he served during his stint there. Penafrancia celebration ngayon sa Naga City. A lot of devotees of the Virgin of Penafrancia or lovingly called INA (Mother) go there for a week-long celebration of the Feast of the Virgin of Peñafrancia. The celebration lasts from Sept. 12 to 19. Happy fiesta to all Bicolanos!"
Myrna, a Bicolana. doesn't really mind: "That streamer of Gen. Lim is a welcome sight, and most appropriate, especially from someone who has endeared himself to the Bicolanos. Kung mukha man lang ni Gloria at ng kanyang alipores, huwag na lang. Baka masira pa ang fiesta atmosphere sa Naga."
Jojovelas: "I read in an article by former Sen. Maceda in Tribune that Gen. Lim could be opposition senatorial bet."
Chi: "Kahit presidente pa, uuwi ako sa Pinas and physically will campaign for my favorite General Danny Lim! Sori Ping, I think it's not too early for the people to know that Gen. Lim will run for Senator, if true. Although, I see the streamer as just a 'thank you' from the Bicolanos who love the General."
SumpPit: "I would prefer that B/Gen. Lim run, not just for the Senate (AT4 , Trillanes, has done that already), but as vice-president to Ping Lacson. Being a commanding general of the AFP's elite force takes not just a bag of courage but a truckload of wits and management skills. Uncompromising loyalty to the flag, burning idealism, and resoluteness to the cause – they both have it. They believe in it."
But not everybody agrees.
Dina Pinoy says: "Pinoy nga naman ok lang kahit wala sa lugar at sobrang aga basta bata nila ang gagawa. Kung si Bakekang sa malakanyang at ang mga alipores niya ang gagawa niyan, sigurado alburoto na naman ang Pinoy."
Al has some apprehensions: "Another military man in the Senate? Aren't you worried that even our legislature is being militarized?
Aren't there competent and honest people in the civilian sector?"
***
Here's something I got in the internet on the feast of Our Lady of Peñafrancia:
"On the first day, the image of the Virgin, a copy of the Madonna in Peñafrancia, Spain, is brought from its shrine to the Naga Cathedral where the novena is held. On the last day, the image is returned to her shrine following the Naga River route. The colorful evening procession is lit by thousands of candles from followers in boats escorting the image. When the flatboat reaches its destination, the devotees shout "Viva la Virgen" (Long live the Virgin!) and the image is carried back in a procession to the cathedral.
"History has it that a Spanish government official from Peñafrancia, Spain settled with his family in Cavite in 1712. One day, a son, Miguel Robles de Covarrubias, a seminarian studying at the Universidad de Santo Tomas got very ill. He and his family prayed to Our Lady of Peñafrancia, whose picture he was clutching to his breast. He made a vow that if cured, he would construct a chapel by the bank of Pasig river in Manila. Miraculously cured, he eventually was ordained a priest not in Manila but in the Ciudad de Nueva Caceres (now known as Naga City).
"In fulfillment of his vow, Padre Miguel mobilized the natives along the slopes of Mt. Isarog to construct a chapel made of local materials, nipa and bamboo this time by the bank of the Bikol river in Naga and ordered a local artisan to carve an image patterned after the picture of Our Lady which is known to have blessed some faithful with miracles."

September 20, 2008 1:07 pm

Tags: Danny Lim, Naga City, Our Lady of Peñafrancia, Philippine Posted in: Feb '06, Malaya, Military