Danny Lim's eulogy for Marlyn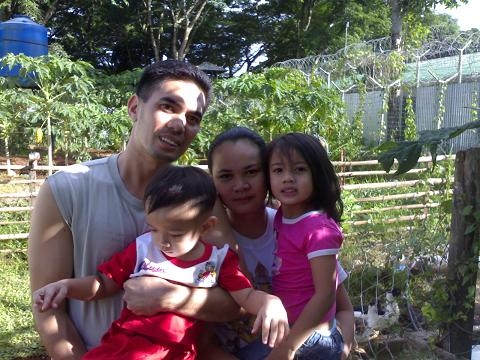 Marlyn Divinagacia, 32,wife of Capt Ervin Divinagracia, one of the 28 officers detained in connection with the February 2006 non-event,was laid to rest yesterday. (Click here for brief background info).
At the necrological rites for her at St. Ignatius church in Camp Aguinaldo, Aloy Lim read the following message of her husband, Brig. Danny Lim, (also in detention) formerly the commander of the First Scout Ranger Regiment where Ervin belonged:
When I first heard the final diagnosis that Marlyn's condition was acute myelogenous leukemia and that she was slowly slipping into coma, I asked God to remove the working tools from those weary hands so her whole being may find final rest, and not long after, when I got word that her mortal remains are all we have, I asked God, why the tragedy?

When someone so young is taken so unexpectedly, it is impossible for man to fathom God's ways. Their daughter, Francine, is only four years old and my godson, Amiel, is only two, make it even more heart-wrenching.

I wondered if its possible that God in all his goodness, also has lapses and moments of inattention to our plight?

In the bigger picture, could it be possible that God, in all his goodness, also has lapses and moments of inattention to our plight?

In the bigger picture, could it be possible that God also sometimes forgets the serious situation for our people, considering the venalities, the deterioration of morals and values of our leaders and the ills in governance causing untold difficulties on our hapless people?

These times, truth and justice seem like very scarce commodities in this benighted land. Even Ervin, with his principles and selfless acts, but who has done absolutely nothing illegal suffers in detention while the real criminals are unfettered and enjoying their foul lives to the fullest.

When Marlyn took her last breath, she was wearing a T-shirt which I gave not too long ago. The white T-shirt she wore has my profile and the words, "For what is true, for what is right."

It now becomes perfectly clear to me why she chose to have it on when crossing the river and appearing before the Great White throne.

Those words must have been in her last conscious thoughts and if indeed God can do with some reminders, he can read them loud and clear. Maybe being taken from loved ones and friends so young is too difficult to comprehend, but take comfort that, "for those who believe and love God, nothing irredeemable can happen."

He memory lives in our hearts as we remember all the wonderful things about her.
Background about the shirt:
A few hours before Marlyn went into coma, she was sweating profusely and her clothes had to be changed. The first thing that Ervin found in her bag was the large-size shirt with General Lim's image and the patriotic quotation.
At Marlyn's deathbed, Ervin quipped to Aloy Lim, "Tingnan mo si Marlyn, mahal na mahal niya si General Lim. Suot-suot pa niya ang T- shirt."