Bibeth talks of Francis M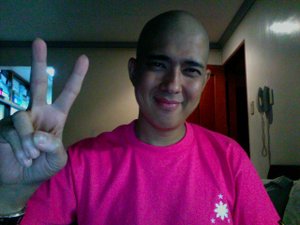 This is one of the three photos in Francis M's last blog entry dated Jan. 14, 2009 as he was preparing for his fourth chemo.
by Bibeth Orteza


Thursday night, March 5, I had a meeting with Malou Choa-Fagar, Executive
Producer of Eat Bulaga. The meeting stretched all the way to 4:30 a.m.,
Malou had been informed by Tita Rose (Rosa Rosal) that it was a matter of
time, for Kiko. My friend of many years back was sad, terribly sad, for
Francis called her ³Mama,² and was really close to her. The next day, March
6, at a lunch meeting with Gabriela party-list Rep. Liza Maza, I got a text
from Malou: ³Francis passed this noon.² I was stunned.
March is usually when I work on The ³Eat Bulaga² Holy Week drama episodes as
writer and director. For this year, before we found out we weren¹t going to
do any, Kiko through his wife Pia agreed to the plot I outlined on the
phone. He was to play himself, he was willing to lend us videos and photos
of his treatment, do his voice-over narration, with scenes of his treatment
to intercut with fictional stories about other people who want to give up
because jobless, because spurned by a lover, because unable to deal with an
in-law, etc., with the message ³Yo, I ain¹t giving up, so don¹t.² The
project sadly didn¹t push through.

I rang up Malou and we both wept on the phone. Following my meeting with
Liza, I still had another one to go to, with Vic Sotto. Vic had made the
announcement of Kiko¹s demise on Eat Bulaga, and I felt he wasn¹t exactly up
to meeting in a restaurant as originally planned. We met instead, in Eat
Bulaga hosts¹ room on Broadway. I got in and Vic and Joey and the other
hosts were being interviewed by a slew of news and TV movie talk show
reporters. Everyone was emotional, and understandably so, for Kiko had been
with the show since what, 1996?
After the reporters had gone, Joey was trying to figure out how badly Kiko,
or anyone else, received his diagnosis the first time around. ³Ang hagulgol
siguro niya. Mahirap iyon.² Then he remembered I was a survivor. He turned
to me and asked, ³Ikaw, gaano ka katagal nag-iiyak?²
³Hindi gaano,² I answered. ³Nalungkot ng todo, pero hindi talaga nag-iiyak.²
³Ows²
³Joey, kasi you only have two options after diagnosis. Ang umiyak, o
lumaban. Pipili ka. Saan ka dadalhin ng iyak? Saan ka dadalhin ng laban?²
Kiko, in our first encounter right after my diagnosis, asked me, ³Direk,
laban?² I shot back, ³Laban.²
Then last year, on the phone, after he found out about his illness (Acute
Myelogenous Leukemia with Mixed Lineage), I asked him. ³Kiko, laban?² How
quickly he replied, ³Laban!²
And boy, how he fought his ³Happy Battle,² as he termed it.
Francis Michael Durango Magalona was the son of screen icons Pancho Magalona
and Tita Duran. He could have easily entered the film and television
industry on the strength of his family name. But his first job was in the
advertising section of the now-defunct ³Mr and Ms Magazine.² He truly worked
his way up.
I¹m not saying he was perfect, or that he never made mistakes. But he
confronted his demons, and way before he fell sick had already quit smoking
and drinking and this and that. He was a good husband and a good father to a
brood of eight.
It is an honor to have known him, to have worked with him.
I shall miss him terribly.
Photo credit: Thanks to PEP for Bibeth's photo. Got it at Google.