Shaming the shameless
Aren't you glad that there is a Miriam Santiago to say that the things we want to say but could not?
Who can say to Augusto Syjuco that what a fool he has made of himself "pasayaw-sayaw pa, kalbo na nga" using taxpayers money?
Syjuco is director-general of the Technical Education and Skills Development Authority (TESDA),the brains behind the "Supermaid" program, training Filipino women to excel as global domestic helpers, enthusiastically promoted by Gloria Arroyo.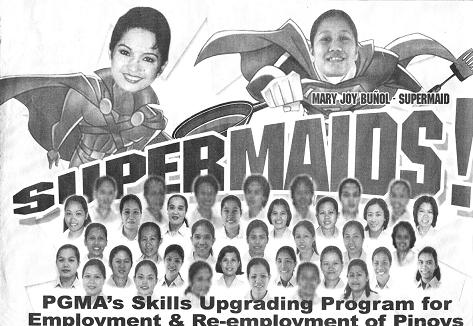 Santiago's shame campaign worked because a few days after she likened public officials engaging in premature election campaign using public funds to " a herd of rhinoceros that are not only thick-skinned, but also dimwitted", Syjuco announced that he was pulling out his radio and TV ads.
Aside from Santiago's crusade against premature election campaign, officials using public funds for political adverstisements disguised as infomercials are also the respondents in the case filed by lawyer Ernesto Francisco Jr., last June at the Makati Regional Trial Court.
Francisco doubts very much if Syjuco experienced epiphany. He said it was more of the Tesda chief trying of save his skin, thick it may be according to Santiago.
Francisco said before Syjuco announced that he was discontinuing his nakakahiyang infomercials it was disclosed at the hearing before the RTC-Manila, Branch 22 presided by Judge Marino de la Cruz, by Crescencia L. Escurel, state auditor assigned at TESDA until about two weeks ago, that sometime in July this year, she had already issued a notice of disallowance of the amount of P12,333,604.52 representing TESDA's advertising expenses for 2005-2007.
Escurel said Syjuco has been told to refund the said amount to the government.
Francisco said Escurel further testified that way back in 2008, COA had already asked TESDA to stop its media advertisements citing Circular No. 85-55A of the Commission on Audit but TESDA had failed to comply.
COA Circular No. 85-55A, which applies to all government agencies, "directs the continued adoption of austerity measures in the government, provides for the suspension of paid media advertisements, except those required in the issuance of agency guidelines, rules and regulations, the conduct of public bidding, and the dissemination of important public announcements, among others."
Syjuco had admitted that P28 million in public funds were spent on infomercials, P6 million of which was paid to singer and actress Sarah Geronimo.
A news report said COA has also disclosed that at least P17.7 million on infomercials with Tesda, whose mandate is to help provide skills to Filipinos in order to reduce the high rate of unemployment, as the biggest spender.
Okay, Syjuco will stop the TV ads. But how about his ugly billboards cluttered all over the country destroying the otherwise countryside pleasant scenery? Francisco said that's another matter that would have to be dealt with.
Other officials included in Francisco's complaints are Vice-President Noli L. De Castro;
Health Secretary Francisco T. Duque III, Defense Secretary Gilberto C. Teodoro, Jr.; EducationSecretary Jesli A. Lapus; PAGCOR Chairman Efraim C. Genuino; Agrarian Reform Secretary Nasser C. Pangandaman; and Executive Secretary Eduardo R. Ermita (for President Gloria Macapagal-Arroyo).
In his complaint, Francisco asked that the court order the said government officials to make a full and complete disclosure of the sources of funds used for their paid advertisements and to make public the same; stop them from further appropriating or using public funds to pay for their infomercials; and order them to return to the State all amounts sourced from public funds which were used to pay for their paid advertisements.
He also asked the court to order the Office of the Solicitor General to institute the appropriate action or proceeding for the recovery of the said amounts.
Gloria Arroyo is the number one offender in uglifying the countryside. You see her face all over the country together with cabinet members and local officials.
Unfortunately, Santiago stays clear of the Arroyo couple.
Never mind, the Filipino people will take care of them.