Palparan operative walks free despite murder cases
By Don So Hiong
Central Luzon TV and VERA Files
Part II: Unsolved Luisita killings show Tarlac's poor human rights record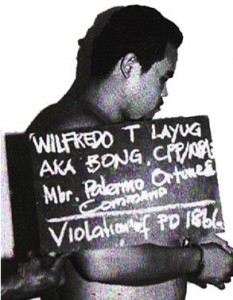 SAN FERNANDO, Pampanga—The Armed Forces of the Philippines (AFP) top brass likes to say it does not tolerate human rights violators in its ranks, but in Central Luzon, the AFP continues to have in its payroll an intelligence asset wanted for at least nine murders in Pampanga during former President Gloria Macapagal Arroyo's term.
AFP sources confirmed that Wilfredo T. Layug Jr. still draws a salary as an intelligence operative of the Army's 7th Infantry Division at Fort Magsaysay in Nueva Ecija, despite being the principal respondent in four cases of extrajudicial killings (EJKs) in 2006. He was wanted for five other murders at the time.
Layug, human rights activists say, is a remnant from the year Army general Jovito Palparan headed the 7th Infantry Division, from September 2005 to September 2006, when he purged Pampanga of leftist elements.
Please click here (VERA Files) for the rest of the story.

March 21, 2011 12:54 am

Tags: jovito palparan Posted in: Human Rights, Vera Files