Read reaction of Jan-Jan's father to outrage over son's humiliation and cry
CHR condemns the March 12 episode of Willing-Willie as "an exploitation of the child's innocence and demeans his inherent dignity for entertainment's sake. " See complete statement in comments section.

A move to teach Willie Revillame a lesson by calling on a boycott of Willing-Willie's advertisers is being circulated online.Details below.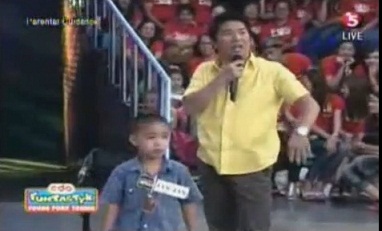 TV-5 and Revillame apologize
Jan-Jan's father speaks: 'Maraming natuwa'
Most of the criticism about boy "macho dancer" Jan-Jan was aimed at TV host Willie Revillame, but a few angry reactions referred to the child's parents who permitted him to be laughed at and humiliated on national TV.
GMA News Online tracked down Jan-Jan's father, Jojo Estrada, a salon owner from Quezon City, who saw nothing wrong with the spectacle that earned his son a tidy P10,000, which was spent on a new Portable Sony PlayStation and bike.
On his son's dance:
"Talent 'yun ng anak ko, simula nung 4 years old sinasayaw nila 'yun, kahit sa school pa. Ako'y tuwang-tuwa. Napaluha ako sa tuwa."

On why the kid was crying and not smiling:
"Hindi siya naka-smile kasi wala siyang ngipin. Kaya naman siya umiyak kasi
natatakot siya kay Kapre Balingit!"
On the supposed 'bastos' nature of Jan-Jan's gyrations:
"Sa akin hindi bastos. Basta sayaw 'yan. Hindi alam ng bata kung bastos. Hindi
bastos 'yun sa magulang. Kaya gusto ko makaahon sa hirap. Maging artista di ba?"
On the public reaction:
"Maraming natutuwa. Ang daming nagpapapicture sa kanya, after makita siya sa
Willing Willie. Ganun katindi! Pasalamat nga ako kay Willie."
On the P10,000 prize money:
"Tuwang-tuwa 'yung bata. Sabi niya, 'Gusto ko bumalik kay Willie.'"
"Wala akong narinig na hindi maganda. Kahit mga kamag-anak ko sa abroad.
Tumawag sila sa akin. 'Jojo, napaiyak kami sa tuwa sa ganda ng ginawa ng anak
mo.'"
— Pia Faustino, GMA News
From TV's Interaksyun website:
Willie, TV5 apologize for Jan-Jan episode
Mr. Willie Revillame, the producers of "Willing Willie" and TV5 sincerely and deeply apologize for the segment of the show featuring 6-year-old Jan-Jan Suan which viewers may have found offensive or in bad taste. We wish to stress that there was never any intention to humiliate or abuse Jan-Jan or any contestant on the show.
"Willing Willie" is a program that was conceptualized to bring joy and hope and shine the spotlight on ordinary Filipinos. The program aims to provide a venue for everyone to show their talents, tell their stories and make their dreams come true. This is the thrust of everyone involved in the program, particularly its host, Willie Revillame.
Like most contestants on the show, Jan-Jan, accompanied by his aunt, joined the program to showcase his talent and play in a game segment in the hope of bringing home big prizes. He has performed in the past in school programs and mall contests, and his performance in "Willing Willie" was completely voluntary and with the blessings of his parents.
He appeared to be sad or even in tears, not because he was being forced to dance, but because he felt the dance was "serious" and he was playing a role. He did not want to smile because of his missing upper front teeth and because of the presence on the set of former basketball player Bonel Balingit who Jan-jan thought was a scary "giant".
Again, TV5 and Wil Productions express profound regret for any insensitivity on their part, and wish to thank all those who have expressed concern. We are always grateful to be reminded of our obligations to the viewing public. In turn, we hope to make clear that the objective of the show has always been to bring joy and hope to Filipinos, whether they are participating on the show or viewing at home.
Here's a manifesto circulated online initiated by advertising executive Dennis Garcia to teach Willie Revillame a lesson: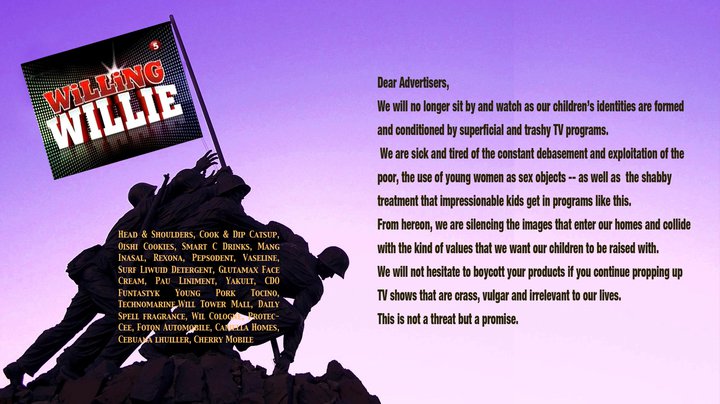 March 29, 2011 12:36 am

Tags: Jan-jan, Willie Revillame Posted in: Human Rights, Showbusiness