Bem and Bam's love story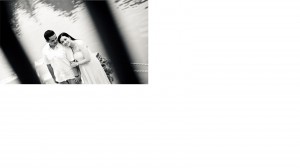 I'm going to THE WEDDING today.
Not the wedding of Prince William and Kate Middleton in Westminster Abbey.
It's the wedding of Bem Pontejos and Bam Frangue, two wonderful people I know.
It will be held at the Holy Rosary Parish in Boracay at 3.pm. Reception will follow at the Sagana Ballroom, Shangri-la's Boracay Resort & Spa.
Of the couple, I first met Bem at the Marine Brig in Fort Bonifacio where he was detained together with other Magdalo officers for standing up against the unelected and corrupt Arroyo presidency on July 26, 2003, what is now referred to as the "Oakwood mutiny."

Bem is Armand Pontejos. At the time of the Oakwood incident, Bem was then a young ensign with the Naval Special Warfare Group having graduated from the Philippine Military Academy in 2001.
I met Bam later, who turned out to be a province mate.
In one of my home visits during the 2007 election, I noticed Trillanes-for-senator streamers at the San Jose plaza. There were also vans going around with Trillanes streamers. I wondered who his leader was in Antique.
Trillanes told me the girlfriend of one the Magdalo soldiers was the daughter of one of the mayors in Antique. He was Mayor Frangue of Caluya, an island near the northern tip of Antique where the Semirara coal plant is located.
I was told later by a neighbor who was a member of our town's (Laua-an) Sangguniang Bayan that Mayor Frangue asked fellow mayors to carry Trillanes in their ticket, which they did.
That kind of Magdalo network explains why despite being in detention and short of campaign funds, Trillanes won a Senate seat.
Trillanes, as expected, is one of the wedding sponsors together with his wife, Arlene, and fellow Magdalo officers, LTsg James Layug and Manuel G. Cabochan.
I saw familiar names in the list of sponsors: Sen. Gregorio Honasan; Sen. Loren Legarda (also an Antiquena) former Antique Governor Sally Perez, former Arroyo political adviser Ray Roquero; Col. Ariel Querubin and wife, Maria Flor; Jeanne Monteverde; Bernadette Lomotan.
The wedding vows will be officiated by Most Rev. Romy Lazo (Bishop of Antique). Two of the seven co-celebrating priests are Fr. Danny Tabuyan, a barrio mate, and activist priest, Robert Reyes.
Today's wedding is proof of the adage" love conquers all."
In their wedding website (Bem is an IT genius), the couple related their love story.
They first 'met' through text in July 2000. The courtship began after almost three years of text messaging sometime in February 2003. They finally met in May 2003. Then, in July 2003, 'Oakwood' happened.
Bem and Bam's love blossomed behind barbed wires. In their own words: "That was when we learned what sacrifice and freedom meant, and what true love can endure.
"Despite the circumstances, we were incredibly (Oak)wooed by each other that we officially became a couple on September 3, 2003.
"Visits, takeouts, and sneaky phone calls made our days exciting. Our dates and anniversaries, and all other special occasions, were spent inside strictly guarded barricades– three in those seven years– where sentinels walked around, watching every move."
While in detention, Bem earned two master degrees through the University of the Philippines 'Open University.' When he got his first master's degree in Management Information System, he was allowed to attend the commencement exercises with armed escorts.
Bem and Bam wrote: "At the end of the day, it is what we believed and saw in each other – the beautiful face, the even more beautiful heart, the passion and conviction, the brilliance, the wonder, the laughter – that mattered. These are what made "us" work; these are why there is nothing we would not do for the promise of a lifetime together."
Bem and Bam, your love story inspires us all. We wish you happy and meaningful life together.