Of Azkals and Pusakals
Never mind the 3-0 score. What was amazing in Kuwait last Saturday was OFW power for the Azkals.
The photos posted by "Pamatay Homesick" in his Facebook Wall give us an exhilarating feeling.
Filipinos in Kuwait came in droves, most probably took a day off from work, to give moral support to the team that is now giving Filipinos a new sense of pride.
"Pamatay Homesick", an interior designer and project design coordinator, posted on his FB wall: "Binabati ko ang lahat, sa matagumpay na kaganapan sa larong football dito sa kuwait.Natalo man ang ating Azkals, nakita ko naman ang pagsasama sama ng ating mga kababayan dito sa kuwait.Mabuhay!"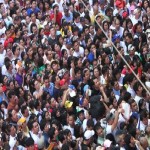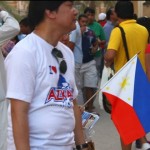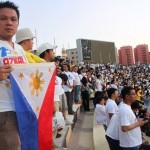 He added: "Kahit tayo ay nasawi, tayo parin ang nagwagi!"
That's the attitude.
The Azkals have already achieved something priceless – making Filipinos proud of being Filipino. That, by itself, is already a score.

Besides, losing is part and parcel of life. The Azkas were really the underdog against the highly-rated Kuwaiti team. Victory will come in the future with the support of the Filipino people.
It's also touching that Azkals appreciate the outpouring of admiration for them. Phil Younghusband twitted," Thank you to all the Filipinos who supported us.And its still not over."
The next game against Kuwait in the World Cup qualifying rounds is on Thursday, July 28 at Rizal stadium.
Anton del Rosario said "Thank you all for supporting… Sorry about the result but we have Thursday to make it up."
Jason Sabio said, "Tough result tonight. Unfortunate goals. Maraming salamat sa inyong suporta. Words cannot express how much it means to us."
The Azkals are not just sports personalities to their fans. They have become role models. Their story of overcoming lack of government support and initial public apathy by sheer grit and determination strikes at the heart of every Filipino who battles odds in his daily life.
But the Azkals should realize their popularity comes with a responsibility to be good.
That's why stories about an alleged rape involving members of the team are spoilers. The info I got was there was no rape. The incident, whatever that was, should make the Azkals realize that fame comes with temptations and traps. It would take more than fancy footwork to handle these more vicious adversaries.
***
There's another football ball team that makes also for a good story.
Two weeks ago, I went with Assistant Solicitor General Karl Miranda and some officials of the German Embassy to the National Penitentiary in Muntinlupa. I was supposed to meet with inmates who are students under a more meaningful rehabilitation program that the government is undertaking for members of our society who have strayed from the path.
Prison officials told us that another activity they have for the inmates is sports and they have formed a football team: Pusakal.
"Pusakal" can mean "criminal". But it can also mean "stray cat".
The team captain of the Puzakal is an inmate from Barotac Nuevo, Iloilo, hometown of Azkals Chieffy Caligdong, Roel Gener and Ian Araneta. He said he used to be a member of the University of Santo Tomas Football team. He is serving time for a drug-related case.
Only medium-security prisoners are allowed to join the football team. An official said the Pusakals used to include Nigerian inmates, members of the West African Drugs syndicate.
The officials said the Nigerians were good players but they were temperamental. They have been transferred to the maximum security detention and are no longer allowed to join the Pusakal team.
We were shown a video of the Pusakal's game with a visiting French football team which the latter won. The German visitors toyed with the idea of having an Askal versus Pusakal game. Wouldn't that be great?

July 24, 2011 10:12 pm

Tags: Azkals, Pusakals Posted in: Illegal Drugs, Justice, Sports