Ombudsman files graft charges vs Arroyo; to be raffled Jan.2
From abs-cbnNEWS.com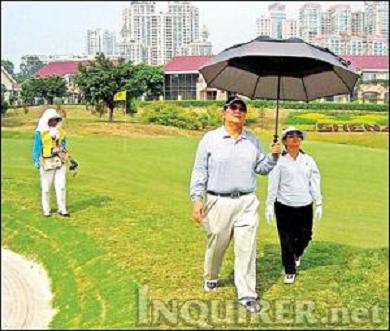 The graft charges filed by the Ombudsman against former President Gloria Macapagal Arroyo before the Sandiganbayan will be raffled off next week.
"The Office of the Ombudsman has requested a special raffle today but it was disapproved by the presiding judge. Instead, it was rescheduled for January 2, Monday," said Sandiganbayan spokesperson Renato Bocar.
The case stems from the graft complaint filed by Bayan Muna Representative Teddy Casiño in connection with the National Broadband Network (NBN) deal with China's ZTE Corporation.
"There were 3 criminal information which were filed against the former president. One was for violation of Section 3-G of the Anti-Graft and Corrupt Practices Act. This is for entering into a contract, the NBN-ZTE contract, which is manifestly disadvantageous to the government of the Philippines," Bocar said.

"The second case is having interest for personal gain in a contract which will pass through her office as President of the Philippines; and, the third one, for accepting gifts or benefits from the ZTE Corporation in the form of playing golf and lunch in China in connection with the pending ZTE contract," he added.
Also charged were former First Gentleman Jose Miguel Arroyo, former Commission on Elections Chairman Benjamin Abalos, and former Transportation and Communication Secretary Leandro Mendoza.
"It's only in the first case where there are other accused. In the other 2 cases, it's only the former president is accused here," he said.
Bocar explained the graft charges in this particular case are all bailable.
The former president is currently under hospital arrest at the Veterans Memorial Medical Center for an electoral sabotage case filed against her last month.
"These new offenses which were filed against the former president are all bailable. I don't know if the accused, the former president, would post bail because she is under detention under a non-bailable offense [electoral sabotage]," he said.
Bocar said it is not necessary for Arroyo to post bail while still under detention.
"But if she files a petition for bail under the electoral sabotage case and there is that possibility however remote, if it is granted, then she would be set free under that charge. So she also has to post bail under the case filed with the Sandiganbayan para makalaya din siya," he said.
Bocar added that the Sandiganbayan will coordinate with the Pasay Regional Trial Court handling Arroyo's electoral sabotage case to ensure that no conflict will arise from the hearing schedules of both cases.
The NBN-ZTE deal, which was intended to provide a broadband network for the government, was scrapped in 2007 by Mrs. Arroyo herself due to allegations of overpricing and bribery.

December 29, 2011 2:20 pm

Tags: Gloria Arroyo, NBN/ZTE Posted in: Gloria Arroyo and family, Graft and corruption, NBN/ZTE