The Tenor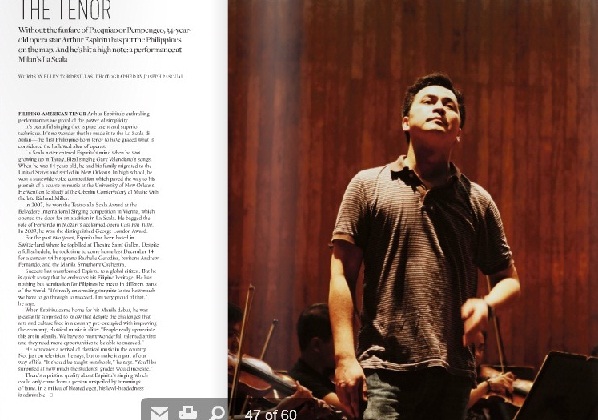 I wrote this article for Rogue Magazine February last year. Click here:http://issuu.com/rogue.ph/docs/roguefeb2011
Last week Espiritu was back as Alfredo in Verdi's opera, "La Traviata." I missed it but friends who were privileged to watch it said, as usual, he was superb.
He is currently conducting Master Classes at the Cultural Center of the Philippines.For inquiries, please contact the CCP Artist Training Division at 832-1125 loc. 1604-1605.
He will be back to perform in "Barber of Seville" at the CCP very soon.
That is something to watch out for.
Filipino-American tenor Arthur Espiritu's enthralling performances are proof of the power of simplicity.
It's beautiful singing that is pure talent and superior technique. It's no wonder that he made it to the La Scala de Milan, the first Philippine- born tenor to have graced what is considered the hallowed altar of operas.

La Scala never entered Espiritu's mind when he was growing up in Tanay, Rizal singing Gary Valenciano's songs.
When he was 14 years old, he and his family migrated to the United States. They settled in New Orleans (his family has relocated to Phoenix, Arizona when hurricane Katrina destroyed their home in Chalmette, Louisiana) and in high school, he won a statewide voice competition which paved the way to his pursuing a course in music at the University of New Orleans. He went on to study at the Oberlin Conservatory of Music with the late Richard Miller.
In 2007, he won the Teatro alla Scala Award at the Belvedere International Singing competition in Vienna which opened the door for an audition in La Scala. He got the role of Fernando in "Cosi Fan Tutte."
The winning has not stopped. In 2009, he won the distinguished George London Award.
The past two years, Espiritu has been based based in Switzerland where he topbilled at Theatre Saint Gallen. Despite a full calendar, he took time to come home to the Philippines to share his talents. His Manila debut in August 2010 was rousing success; music lovers wanted more of him. He came back last Dec 14 for a concert with soprano Rachelle Gerodias, baritone Andrew Fernando and the Manila Symphony Orchestra.
There's a pristine quality about Espiritu's singing which could only come from a person unspoiled by trimmings of fame. In a milieu of bloated egos, his level-headedness is admirable.
He said, "Well, it's really as simple as being yourself. Having a career does not mean your social status has significantly improved. I believe that self preservation and having a good moral fiber are important for an individual."
He said he can't understand people who would act differently once they make a name. "It's like abandoning yourself."
Success has transformed Espiritu to a global citizen. But he is quick to say, "I embrace my Filipino heritage."
He has nothing but admiration for Filipinos he meets in different parts of the world. "It's really an amazing surprise to see how much the Filipino people have to go through to succeed. I'm very proud of that," he says.
He loves it that Filipinos know how to celebrate life. He said," The karaokies/magic sing get togethers in parties, the array of food laid out in tables, family, togetherness. You can't beat that! Truly Pinoy, di ba?"
When Espiritu came home for his Manila debut, he was pleasantly surprised to know that despite the challenges that arts and culture face in a country pre-occupied with improving the economy, classical music is alive." People really appreciate this art in Manila. We have so many wonderful, talented artists in Manila. They need more opportunities to be able to succeed."
He advocates a revival classical music in the country. Not just on TV, he said, but to make it a part of our way of life. It should be taught in schools."You'll be surprised at how much their (students) grades would increase," he said.
***
The Bachelor Girl says Arthur Espiritu is the John Lloyd Cruz of La Traviata. http://www.thebachelorgirl.com/2012/11304/la-scala-tenor-arthur-espiritu-is-john-lloyd-cruz-in-la-traviata-opera/

Other articles on Arthur Espiritu in this blog:
http://www.ellentordesillas.com/2010/08/11/beautiful-singing/

http://www.ellentordesillas.com/2010/08/16/tenor-arthur-espiritu-captures-manila/
http://www.ellentordesillas.com/2010/12/04/swiss-based-tenor-misses-filipino-christmas/

March 6, 2012 8:36 pm

Tags: Arthur Espiritu, Tenor Posted in: Arts and Culture