Explaining Duterte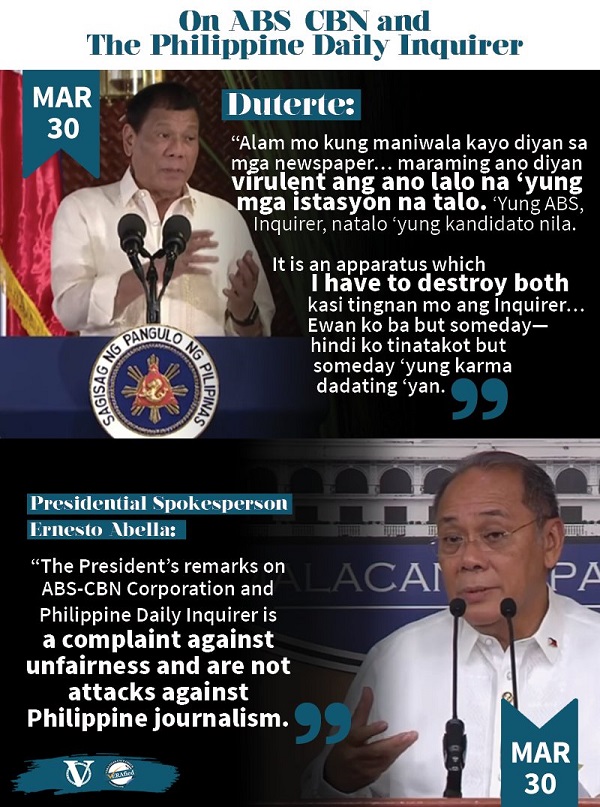 The president of the Philippines is the country's chief executive, head of state and commander-in-chief of the armed forces.
His powers are awesome, so his words carry the weight of his powerful position.
In his one year in office, President Duterte has shocked, stunned, and bewildered not only Filipinos but also the international community with his pronouncements.
A political observer said that to keep his sanity, he usually waits a day or two before deciding whether to take seriously or dismissing Duterte's statements.

Presidential Spokesman Ernesto Abella has advised the public to use their "creative imagination" when trying to understand what the President says.
To mark the President's second State-of-the Nation address on Monday, VERA Files has updated its compilation of the President's controversial statements and how his officials use their creative imagination in explaining it to the public.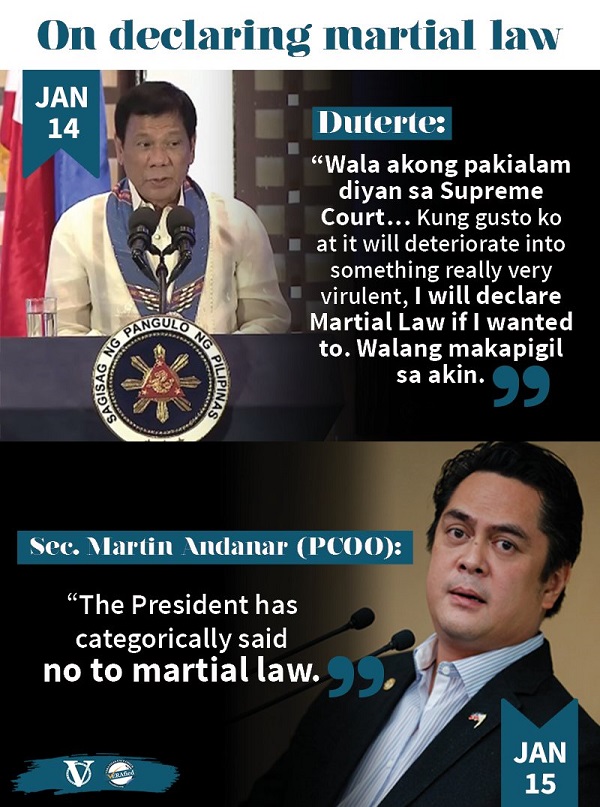 Here are some items in VERA Files' compilation:
Last March 30, Duterte said, "Alam mo kung maniwala kayo diyan sa mga newspaper… maraming ano diyan virulent ang ano lalo na 'yung mga istasyon na talo 'yung ABS, Inquirer, natalo 'yung kandidato nila…It is an apparatus which I have to destroy both kasi tingnan mo ang Inquirer… Ewan ko ba but someday—hindi ko tinatakot but someday 'yung karma dadating 'yan."
On the same day, Abella said:"
"The President's remarks on ABS-CBN Corporation and Philippine Daily Inquirer is a complaint against unfairness and are not attacks against Philippine journalism."
It didn't take long for Duterte's warning of "karma" to take effect and contrary to Abella's declaration, Philippine journalism is shaken.
In many of his speeches, Duterte raised the case of Mile Long property in Makati which he said was acquired by the Prieto family, which held 85 percent of the Inquirer's shares, in a questionable manner. He also mentioned about looking into the tax issues of Prieto's other businesses.
Last Monday, Marixi R. Prieto, chair of the Inquirer Group of Companies, announced that the family is selling its stake in the newspaper to businessman Ramon Ang.
Duterte has also threatened to block the renewal of the franchise of ABS-CBN which is due to expire in 2020.
Another item in VERA Files compilation was on the declaration of Martial Law.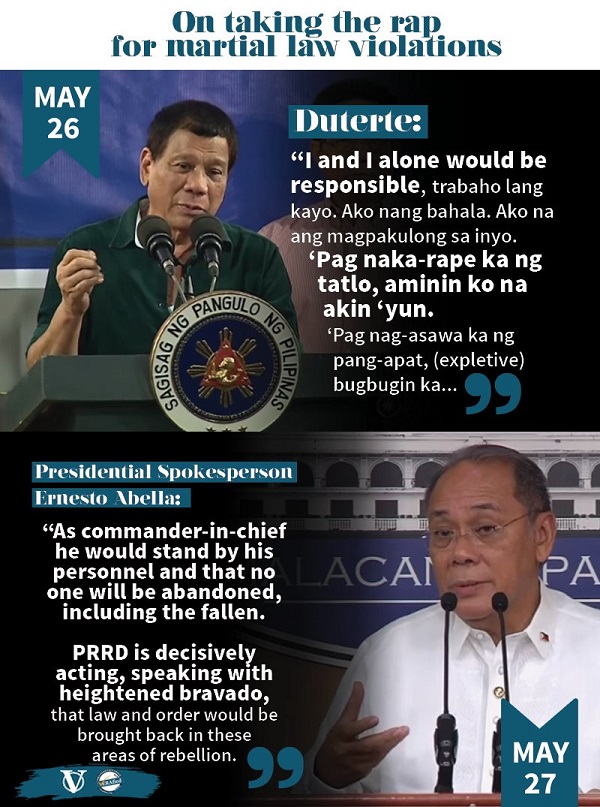 On Jan. 14, Duterte said, "Wala akong pakialam diyan sa Supreme Court… Kung gusto ko at it will deteriorate into something really very virulent, I will declare Martial Law if I wanted to. Walang makapigil sa akin."
It frightened many, especially those who experienced the abuses of Martial Law during the Marcos regime. The next day, Press Secretary, Martin Andanar blasted at media for reporting that Duterte is planning to declare martial Law.
Andanar said: "The President has categorically said no to martial law. We consider this kind of reportage as the height of journalistic irresponsibility."
On May 23, Duterte declared Martial Law in the whole of Mindanao following intense fighting between government forces and Muslim extremists in Marawi City. He wants it extended five months more up to end of December 2017.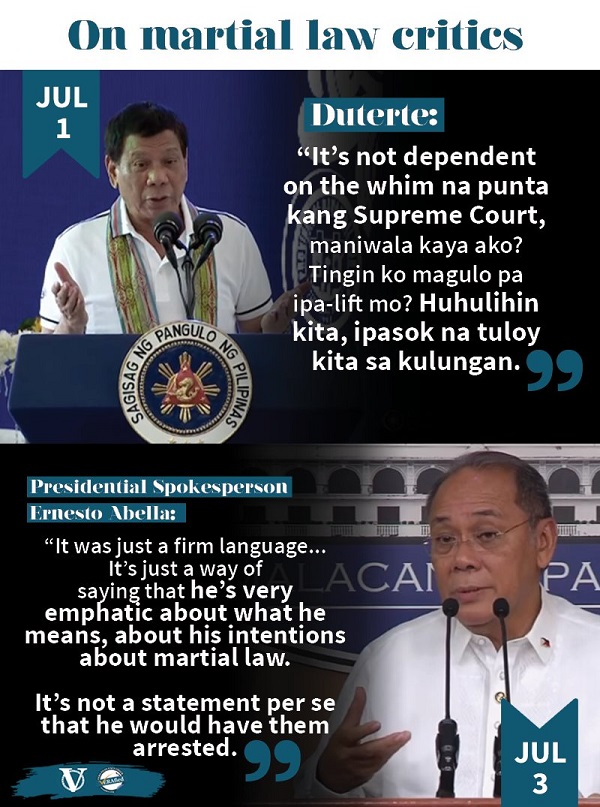 Last July 1, Duterte blasted at those questioning his declaration of Martial Law. He said: "It's not dependent on the whim na punta kang Supreme Court, maniwala kaya ako? Tingin ko magulo pa ipa-lift mo? Huhulihin kita, ipasok na tuloy kita sa kulungan."
Two days after, Abella explained: "It was just a firm language… It's just a way of saying that he's very emphatic about what he means, about his intentions about martial law. It's not a statement per se that he would have them arrested."
For the full article, please go to http://verafiles.org/articles/year-under-duterte-explaining-president. It's fun.

July 22, 2017 12:53 pm

Tags: rodrigo duterte Posted in: Communication