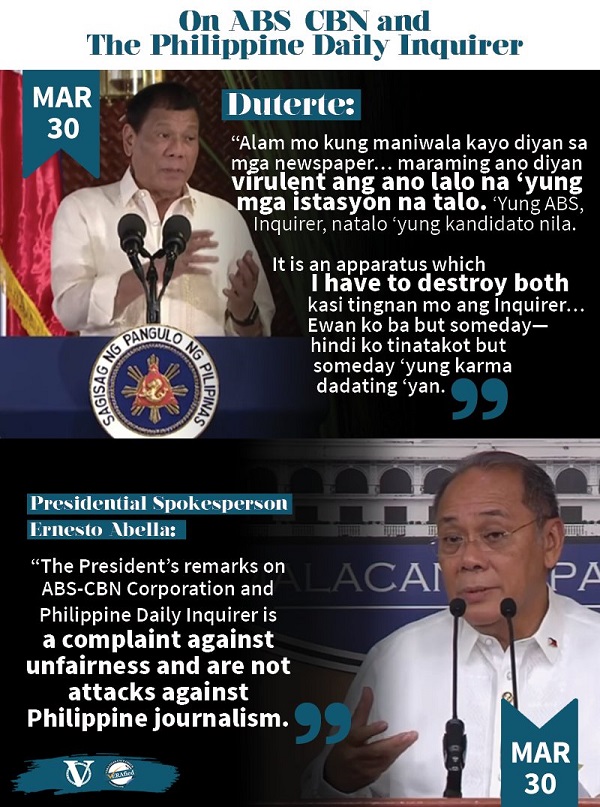 The president of the Philippines is the country's chief executive, head of state and commander-in-chief of the armed forces.
His powers are awesome, so his words carry the weight of his powerful position.
In his one year in office, President Duterte has shocked, stunned, and bewildered not only Filipinos but also the international community with his pronouncements.
A political observer said that to keep his sanity, he usually waits a day or two before deciding whether to take seriously or dismissing Duterte's statements.
Read the rest of this post »

July 22, 2017 12:53 pm

Posted in: Uncategorized

No Comments
I'm intrigued by the results of the survey conducted by the American fact tank, Pew Research Center, showing only Filipinos, among seven countries in Asia Pacific, have a generally positive view of North Korea.
The survey was conducted between February and May this year, before North Korea's successful launching of an intercontinental ballistic missile last July 4. It was reported as North Korea's leader Kim Jong-un's gift to the United States.
The survey showed the Japanese are most negative on North Korea (94%); Australians, 82 %; the Americans, whose president is the most hostile towards North Korea, 78%.
Read the rest of this post »

July 17, 2017 11:02 pm

Tags: North Korea, South Korea Posted in: Foreign Affairs

No Comments
Upon orders of President Duterte, Police Chief Director General Ronald de la Rosa said the murderer-cops, led by Police Supt. Marvin Marcos will be re-instated to the positions they held before they were suspended for the killing of former Albuera Mayor Rolando Espinosa Sr. and his fellow inmate, Raul Yap, in Baybay provincial jail in Leyte on November 5 last year.
The reaction of Sen. Panfilo Lacson sent to the media by text expresses the feeling of many upon hearing the reinstatement of Marcos: "There is a phrase to describe this whole damn thing: P… Ina."
Lacson's committee investigated the incident and found that the killing of Espinosa and Yap was premeditated
Read the rest of this post »

July 13, 2017 9:25 pm

Tags: Marvin Marcos, PNP Posted in: Peace and Order, Philippine National Police

8 Comments
One of the good things that President Duterte has done was to rekindle relations with China which reached its lowest ebb during the administration of Benigno Aquino III.
Never mind that during the election campaign, he rode on the anti-China sentiments of most Filipinos fueled by the pro-American leanings of Aquino and his Foreign Secretary, Albert del Rosario.
Remember, a standard in Duterte's campaign speech was his boast that he will ride on a jet ski to one of the islands in the disputed Spratlys and plant the Philippine flag. He would kiss the flag to dramatize his promise.
Once in Malacanang, he was asked when he was going to jetski to Spratlys and he replied it was a joke. He said he didn't even know how to swim.
Read the rest of this post »

July 12, 2017 8:19 am

Tags: Arbitral Court PH vs China, Rodrigo Dutrte, South China Sea Posted in: Foreign Affairs

5 Comments
House Speaker Pantaleon Alvarez said he will be pushing for a five-year extension of Martial Law in Mindanao declared by President Duterte last May 23 and is supposed to end on July 22, two days before he delivers his second State-of-the Nation address.
Alvarez, who has proven himself valuable to Duterte for shepherding a docile House of Representatives to latter's bidding, said Saturday, ""If I can convince my colleagues, I will push for an extension until 2022, because two months is too short. Five months or one year or two years is too short."
Alvarez did not say what is needed that cannot be done in normal times, without the sword of Martial Law hanging over Mindanao.
Duterte himself does not seem so eager to lift martial Law in Mindanao. News reports said when he was asked last week if he would lift it before delivers his second SONA on July 24, he replied, "No".
Read the rest of this post »

July 10, 2017 12:31 am

Tags: Martial Law Mindanao, Pantaleon Alvarez, Rodrigo Duterte. Boiling frog Posted in: Governance, House of Representatives

14 Comments
(Unang lumabas itong column sa https://www.abante.com.ph/prangkahan-huwag-gawing-basurahan-ang-marawi.htm)
Lugmok na nga ang Marawi ngunit sa halip na tulungan palakasin ang kalooban, ini-insulto pa.
Ito ang tingin ng marami sa ginawa ni Police Chief Ronald Dela Rosa sa pagpadala ng dalawang tiwali nag a pulis sa Marawi.

Tama lang na pinuna ito ni Defense Secretary Delfin Lorenzana at nagreklamo si Zia Along Adiong, ang tagapagsalita ng Marawi Crisis Management Committee.
Kumalat sa social media noong isang linggo ang video nina PO1s Jose Julius Tandog at Chito Enriquez ng Mandaluyong police na sinasaktan ng yantok ang dalawang lasing na nahuli at dinala sa pulis station. Hindi nila alam ng mga pulis na habang sinasaktan nila ang isa, kinukuhaan pala sila ng video ng kasama.
Bilang parusa, sabi ni de la Rosa bilang parusa, maliban sa kasong administratibo na isasampa laban sa dalawa, ipadala sila sa Marawi para "doon nila ipakita ang kanilang tapang."
Read the rest of this post »

July 9, 2017 10:09 pm

Tags: Bato de la Rosa, Marawi City, PNP Posted in: Peace and Order, Philippine National Police

6 Comments
Of the four members of the Supreme Court who dissented from the majority decision upholding President Duterte's declaration of Martial Law and suspension of the privilege of the writ of habeas corpus in the whole of Mindanao, three ( Chief Justice Maria Lourdes Sereno, Senior Associate Justice Antonio T. Carpio, and Associate Justice Alfredo Benjamin S. Caguioa) supported him as far as Marawi City was concerned.
In his dissenting opinion, Carpio said, "Without question, the widespread killing of both government forces and innocent civilians, coupled with the destruction of government and private facilities, thereby depriving the whole population in Marawi City of basic necessities and services, endangered the public safety in the whole of Marawi City. Hence, with the concurrence of an actual rebellion and requirement of public safety, the President lawfully exercised his Commander-in-Chief powers to declare martial law and suspend the privilege of the writ in Marawi City.
"However, the same does not apply to the rest of Mindanao. Proclamation No. 216 and the President's Report to Congress do not contain any evidence whatsoever of actual rebellion outside of Marawi.
"In fact, the Proclamation itself states that the Maute-Hapilon armed fighters in Marawi City intended to remove "this part of Mindanao," referring to Marawi City, from Philippine sovereignty. The Proclamation itself admits that only 'this part of Mindanao' is the subject of separation from Philippine sovereignty by the rebels. The President's Report did not mention any other city, province or territory in Mindanao, other than Marawi City, that had a similar public uprising by a rebel group, an element of actual rebellion. Thus, the President's Report concludes that 'based on various verified intelligence reports from the AFP and the PNP, there exists a strategic mass action of lawless armed groups in Marawi City.' The President's Report expressly states that the Maute-Hapilon armed fighters were waging rebellion first in Marawi City as a prelude or "precedent" to waging rebellion in the rest of Mindanao. This is a clear admission that the rebellion was only in Marawi City and had yet to spread to the rest of Mindanao. "
Read the rest of this post »

July 7, 2017 9:49 pm

Tags: Martial Law in Mindanao, PH Supreme Court Posted in: Governance, Military, Peace and Order, Supreme Court

2 Comments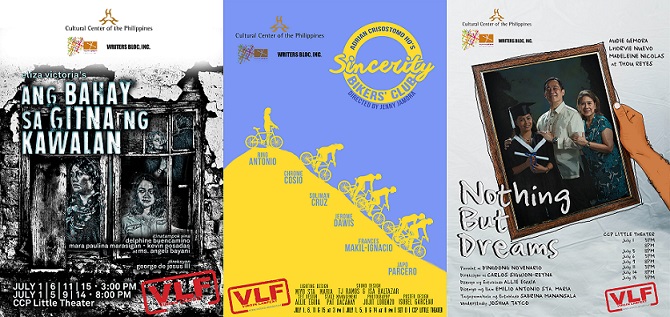 There is no English word that can fully capture the meaning of the Filipino word, "Wagas."
Consult a dictionary and it will give you all feel-good meanings: unfeigned, endless, genuine, sincere, true, pure, faithful. "Wagas na pag-ibig," is a common phrase. We also say it with an exclamation point to stress our approval.
We also use "wagas" as a reaction/ commentary to statements or situations so unbelievable that leave us dumbfounded like President Duterte telling members of Philippine Chinese Charitable Association, "I hate corruption. Hindi ako nagmamakalinis. Marami rin akong nanakaw pero naubos na. So wala na " and the audience applaud him.
Read the rest of this post »

July 2, 2017 8:51 pm

Tags: 13th Virgin Labfest Posted in: Entertainment

3 Comments
After a six-day absence, President Duterte re-appeared at the Eid-al-ftir celebration in Malacañang Tuesday evening.
That ended grim speculations that prompted Presidential spokesman Ernesto Abella to assure the public earlier in the days that the President is "alive and well."
In a press briefing, Abella allayed concerns about the Duterte's prolonged absence from public activities saying, "First and foremost, he is alive and well. He is very well. He is just busy doing what he really needs to do. The President, you know, as you've seen, he's been very much in the public eye; but being out of the public eye, that is when he is able to really do all his work – he signs papers, he reads, he consults, he's actually very busy."
One of the issues raised about Duterte's mysterious absence is that there is an ongoing war in Marawi City which prompted him to declare Martial Law in Mindanao, one of the extreme measures reserved for a president to deal with emergency situation. And he disappears from the national scene!
Read the rest of this post »

June 28, 2017 2:18 pm

Tags: Eid-al-fitr, rodrigo duterte Posted in: Governance, Health

3 Comments
In his re-appearance speech five days after he was not seen in public, President Duterte gave an explanation for the military's "mis-appreciation" of intelligence report that has been blamed for the difficulty being encountered by government forces in the ongoing war against the Islamist militants in Marawi city.
It will be recalled that Solicitor General Jose Calida said that the military had received intel reports about possible Maute- Abu Sayyaf attack in Marawi five days before May 23, when the fighting started sparked by the serving of warrant of arrest to ASG leader Isnilon Hapilon. The fierce fighting was the basis of the declaration of Martial Law in Mindanao by Duterte on May 23 .
Defense Secretary Delfin Lorenzana, who was in Moscow with the President together with other high-ranking security officials said there was no lapse in intelligence monitoring. "It's just appreciation of the intelligence that was lacking there," he said.
Read the rest of this post »

June 19, 2017 1:46 am

Tags: ISIS, Marawi, Maute Group, rodrigo duterte Posted in: Military, Mindanao, Terrorism

36 Comments