President Duterte never ceases to stun us.
Yesterday, he admitted that his story about the offshore accounts of Sen. Antonio Trillanes IV was a product of his imagination.
"Wala ito. Produkto ng isip ko ito. Tinanggalan ko talaga. Ginamit mo. Nag-issue ka ng waiver… Iba ang account number, iba ang totoo. Sinadya ko iyan," he said after Trillanes went to Singapore and proved that the two bank accounts supposedly based in Singapore in the list Duterte read to the public were non-existent.
His admission made him a manufacturer of fake news.
If that was not jarring enough, he bragged that he has fooled Trillanes."Kita mo siya ngayon. He's desperate. Pumunta ng Singapore, mag-gastos lang para propaganda lang," he further said.
We thought only a fool would do that.
Read the rest of this post »

September 20, 2017 2:10 am

Tags: Antonio Trillanes IV, rodrigo duterte Posted in: Graft and corruption

No Comments
When things are difficult, you laugh and you sing.
Those are coping mechanisms that Filipinos have developed into art.
There's a song going around social media that is so much fun. It's a new version of an old game song "May Pulis sa Ilalim ng Tulay."
The song is usually sang in a party where each one adds a line to the original sentence about a policeman under the bridge. Often, as each one adds a sentence depending on his or her views and wit, the song becomes a sharp commentary.
Read the rest of this post »

September 17, 2017 11:41 pm

Tags: Duterte illegal drugs campaign, PNP Posted in: Human Rights, Illegal Drugs, Philippine National Police

No Comments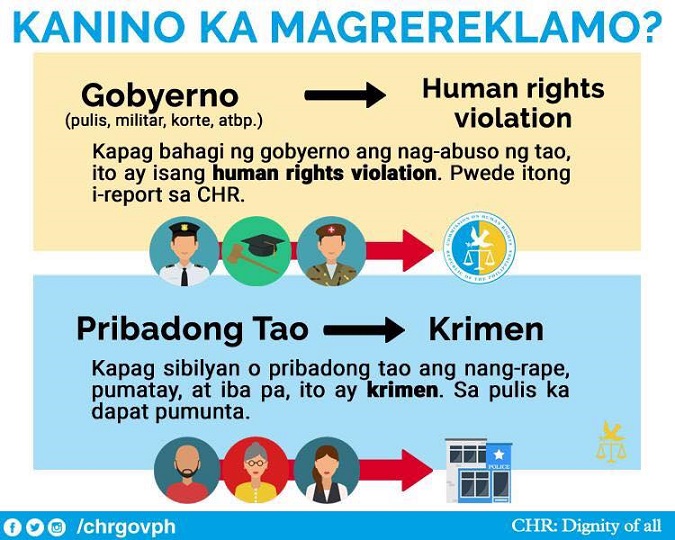 When the House of Representatives voted 119 against 32 last Tuesday to give only P1, 000 budget for the Commission on Human Rights for 2018, it showed that stupidity is not the monopoly of its speaker.
Lambasted in social media, some of the congressmen who voted "Yes" have started explaining their vote and they all showed their ignorance of the mandate of the CHR just like Alvarez.
Alvarez lambasted the CHR for not running after those who killed the policemen, military and government officials.
"Kailangan nilang protektahan at pangalagaan ang karapatang pantao ng sinuman, di lang isang sektor, di lang sa karapatang pantao ng mga kriminal, pati ang innocent victims. Kumikibo lang sila kapag against the military, against the police, against government officials. Hindi naman ganun ang mandato nila. Ang mandato nila ay lahat ng karapatang pantao ay protektahan nila at pangalagaan," he said.
Actually, Alvarez and the 119 congressmen who voted to strangle CHR by withholding funding , are not the only ones who are misinformed of the role of the Human Rights Commission. They are actually only echoing the ignorance that President Duterte has been articulating in many of his speeches.
Read the rest of this post »

September 14, 2017 10:57 pm

Tags: CHR, House of Representatives Posted in: Human Rights

No Comments
In his desperation to get back at Sen. Antonio Trillanes IV, President Duterte resorts to fake news.
In last Thursday's Senate investigation of the Senate Blue Ribbon committee of the 604 kilos of shabu that slipped through the Bureau of Customs, Trillanes presented bank accounts of presidential son Paolo Duterte, vice mayor of Davao City (totaling P104,2812.165 made in 2011 to 2015) and presidential son-in-law Atty. Manases Carpio (totaling 211,109,236 made in 2003 to 2012). The two neither confirmed nor denied the deposits invoking "right to privacy."
Last Saturday, in a speech at the closing ceremony of the Mindanao Business Conference, Saturday said Duterte said he will also expose Trillanes' bank accounts abroad.

Read the rest of this post »

September 12, 2017 9:30 am

Tags: Duterte vs Trillanes, fake news Posted in: Governance, Graft and corruption

No Comments
Reynaldo de Guzman, 14 years old. Kian Delos Santos, 17 years old.
They are children under the definition of the United Nations Convention on the Rights of the Child.
Carl Angelo Arnaiz and Raymart Siapo, both 19 years old, just passed their childhood.
They are all dead. Killed brutally by persons who have lost their humanity.
Read the rest of this post »

September 8, 2017 10:43 pm

Tags: Carl Angelo Arnaiz, Kian delos Santos, PNP, Raymart Siapo, Reynaldo De Guzman Posted in: Peace and Order, Philippine National Police

4 Comments
The saying "A fish is caught by its mouth" applies to President Duterte on the issue of the alleged involvement of his son, Davao City Mayor Paolo Duterte, and his son-in-law, Atty. Manases Carpio in the release without inspection by the Bureau of Customs of a shipment containing 604 kilos of shabu worth P6.2 billion last May.
Duterte told reporters Sunday, "Ang advice ko kay Pulong? Punta ka doon. And then pagdating mo, dun sa questions, sabihin mo, 'I will not answer you.' I'm invoking my right of silence kasi noong eleksyon pa, hindi pa Presidente tatay ko, binibira mo na kami. So if you want evidence, do not get it from the mouth of other people. Go somewhere else."
Pulong is the nickname of Paolo.
Read the rest of this post »

September 6, 2017 10:17 am

Tags: Antonio Trillanes IV, Bureau of Customs, Mans Carpio, Paolo Duterte Posted in: Graft and corruption

4 Comments
Last Friday, 26-year old customs broker Mark Taguba, through lawyer Raymond Fortun, released the following statement:
"I have been informed of the circulation of fake news that have been deviously spread on social media relative to my testimony at the Blue Ribbon Committee hearing of the Philippine Senate yesterday (31st august 2017).

"I wish to categorically make it clear that:

1) I had never testified, nor will I ever testify that Vice-Mayor Paolo Dterte and/or Atty. Manse Crpio were involved in the shipment of illegal drugs into the country. Neither have i testified, nor will I ever testify that the aforementioned individuals were involved in the "tara system" that was in-place at the Bureau of Customs.

2) The names of Vice-Mayor Duterte and/or Atty. Manases Carpio were merely mentioned by the "Davao group" whose direct contacts to me were 'Tita nannie' and 'Jack'. As I had repeatedly stated before Congress and the Senate, the alleged involvement of the aforementioned individuals are hearsay in nature.

3) At no time have I met either Vice-Mayor Dterte or Atty. Carpio in person, much less discuss any illegal transaction at the bureau of customs with them.

4) To this day, I contest that the container that my company caused to be released on May 24,2017 contained the 605 kilograms of shabu. As I have repeatedly testified, the contents of the container (otherwise known as the "packing list") which was duly certified to be correct by the port of Xiamen under the Asean-China Free Trade Agreement will reflect that it only contained general household items and not the five (5) cylinders where the shabu was discovered.

"I am making this statement to clear Vice-mayor Paolo Duterte and Atty. Manse Carpio from any involvement in the shipment of illegal drugs into the country, and any anomalies in the Bureau of Customs. I also hereby apologize to Vice-Mayor Duterte, Atty. Carpio and to the first family for the proliferation of fake news arising out of my testimony at the senate yesterday."

September 4, 2017 7:53 am

Tags: Bureau of Customs, Mans Carpio, Mark Taguba, Paolo Duterte Posted in: Graft and corruption

No Comments
It was obvious in Thursday's Senate Blue Ribbon hearing on the 604 kilos of shabu that slipped through the watch of the Bureau of Customs under then Commissioner Nicanor Faeldon, that Committee Chair Sen. Richard Gordon does not want the truth to come out since the trail was leading to the direction of the Davao Group which allegedly involves not only presidential son and Davao City Vice Mayor Paolo Duterte but also presidential son-in-law lawyer Mans Carpio.
During the hearing, it was very noticeable that Gordon was soft on Davao Councilor Nilo "Small" Abellera, a very good friend of Paolo, who admitted having met Customs broker Mark Taguba and a certain Jack in a restaurant in Davao City.
Taguba claimed that in the Davao meeting, he gave P5 million to Abellera as "enrolment fee" for the Davao group that facilitates release of shipment at the Bureau of Customs. He gave the money in Abellera's car after they had lunch. They again met in the evening at a restobar.
Taguba said Abellera complained about another customs broker who reneged on their agreement. The councilor denied Taguba's narration of the meeting saying they met only in the evening.He also denied receiving money from Taguba.
Read the rest of this post »

September 1, 2017 5:47 am

Tags: Bureau of Customs, Davao Group Posted in: Graft and corruption

No Comments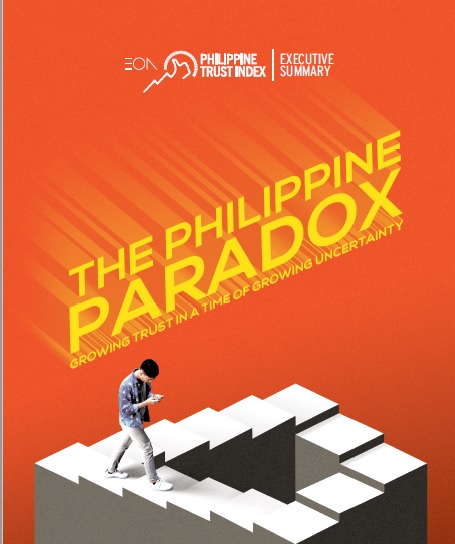 Filipinos' trust in the government dramatically increased in the past two years as church and media, two institutions often lambasted by President Duterte, continued to be regarded highly by the public.
These were part of the findings of the survey conducted by the EON Group from March to April 2017 on the levels and drivers of trust among 1,200 Filipinos aged 18 and above.
The PTI survey, which EON started in 2012, covered six institutions- Academe, Business, Church, Government, Media, and Non-Government Organizations. All institutions improved its trust ratings with government posting a record leap of 30 percent from 2015's low trust rating of 50 percent to a high of 80 percent this year.
Read the rest of this post »

August 30, 2017 8:27 pm

Tags: 2017 PTI Posted in: Governance, Media

2 Comments
Once again, we are seeing proof of the saying that truth will find its way out, however one tries to block it.
We are referring to the Paolo Duterte- Charlie Tan drug connection.
Paolo is the son of President Duterte and is the vice mayor of Davao City. Charlie Tan, according to news reports, is a Taiwanese businessman who does a lot of business in Davao.
Sen. Panfilo Lacson's privilege speech last Wednesday on the corruption at the Bureau of Customs was indeed explosive. As Magdalo Rep. Gary Alejano said, Lacson's speech "has exposed more actionable information regarding corruption in BOC compared to Sen. Richard Gordon's endless hours of monologue and one-man show hearings."

Read the rest of this post »

August 29, 2017 6:40 am

Tags: Bureau of Customs, Illegal Drugs, Paolo Duterte, Ping Lacson Posted in: Human Rights, Peace and Order

One Comment