While the public was engrossed with the scandal of how 605 kilos of shabu from China worth P6.5 billion slipped through the Bureau of Custom and being entertained with the Bautista vs Bautista family feud with a cameo role by President Duterte, a chunk of Philippine territory was being taken over by China.
China occupied Mischief Reef in 1995, took control of Scarborough Shoal in 2012. This time it's Sandy Cay, 2.5 nautical miles from Pagasa, the largest of the eight features occupied by the Philippines.
Senior Associate Justice Antonio T. Carpio has sounded the alarm on the presence of Chinese frigates in the area of Sandy Cay and laid out its implications:
Read the rest of this post »

August 20, 2017 11:52 pm

Tags: Pag-asa, Sandy Cay, South China Sea, Spratlys Posted in: Foreign Affairs

No Comments
Kolumn ko ito sa Abante.
Anong klaseng tao itong mga pulis na walang habag na pinagbabaril ang 17-taong gulang na si Kian de los Santos habang nagmamakaawa, "Tama na po! May test pa ako bukas!"
Ito ba talaga ang sinasabing kailangan maka-quota and mga pulis kaya kahit sino na lang bibitbitin nila at pagpapatayin at sabihing drug pusher?
Gustong kung magmura ng "Putang Ina mo Duterte" ngunit hindi ko gagawin yun dahil ayaw kung maging katulad niya na wala nang lumalabas sa bunganga niya kungdi mura. Ibig sabihin noon ganun din lang ang laman ng utak niya at puro lason ang nasa puso niya.
Ayaw ko rin na idamay pa ang nanay niya sa kahindik-hindik na pinag-gagawa niya sa bansa. Hindi naman tama yun.
Read the rest of this post »

August 19, 2017 7:25 pm

Tags: Duterte illegal drugs, KIan de los Santos, PNP Posted in: Human Rights, Peace and Order

5 Comments
I seriously doubt if this bill by Angat Tayo Party List Rep. Neil Abayon will prosper into law and if it could be implemented. But it's good enough because it is a recognition of government officials' incompetence and ignorance of the situation on the ground.
House Bill 6195 authored by Abayon requires elected and appointed public officials with the rank or equivalent of division chief to department secretary to ride public land transport to and from work and for official business at least once every calendar month during weekday rush hours.
The purpose of the bill is in order for government officials to gain "personal, first-hand experience "and "real world perspective" about riding in public transport in this country.
Read the rest of this post »

August 19, 2017 3:06 pm

Tags: Grace Poe, Ilegal drugs, PNP, Ralph Recto, Uber Posted in: Peace and Order, Transport

3 Comments
The agreed framework for a Code on South China Sea was the most important achievement of the recently-concluded meeting of the foreign ministers of the Association of Southeast Asian Nations which segued to more meetings with its dialogue partners and the Asean Regional Forum.
After the much-awaited meeting between ASEAN foreign ministers and China Sunday, Chinese Foreign Minister Wang Yi announced that China have agreed on the framework for a Code on SCS. He said substantive consultations will be undertaken in the coming months with the end view of an implementable COC on South China Sea.
Aside from the question of when is the actual COC expected to be completed, is another question: what kind of COC on South China Sea would it be.
Read the rest of this post »

August 17, 2017 11:11 am

Tags: ASEAN50, paracels, Scarborough shoal, South China Sea Posted in: Foreign Affairs

2 Comments
Chinese Foreign Minister Wang Yi said Sunday that he and the 10 foreign ministers of the Association of Southeast Asian Nations have approved the framework for the Code of Conduct in the South China Sea.
This is just a framework, not the long-desired COC. Nevertheless, it is a major step towards an agreement that hopefully would provide stability in the vast body of water disputed by China, Philippines, Vietnam, Malaysia, Brunei and Taiwan.
The substance of that framework will be discussed in the coming months, Wang said.
Read the rest of this post »

August 7, 2017 10:36 pm

Tags: Asean-China COC, South China Sea, Spratlys Posted in: Foreign Affairs

One Comment
Asked during his press conference last Wednesday when the talks about the joint exploration in Philippine territory that is also being claimed by China and other countries started, Foreign Secretary Alan Peter Cayetano recalled the meeting of the late Deng Xiaoping with then President Corazon Aquino.
In that meeting, Deng suggested to set aside the issue of sovereignty on the Spratlys because that won't be resolved in their lifetime. He suggested joint development.
Cayetano assured the public that the joint exploration they would be entering with the Chinese will not violate the Constitution and cited the Malampaya oil project in Palawan which is being operated by Shell, a British–Dutch multinational oil and gas company.
Read the rest of this post »

August 1, 2017 6:11 am

Tags: Alan Cayetano, Cory Aquino, Deng Xiaoping, PH-China joint exploration, Reed Bank, South China Sea, Spratlys Posted in: Foreign Affairs

2 Comments
From the fragmented information about the resumption of talks on joint exploration with China in the disputed parts of the Spratlys, what is emerging is a repeat of jumbo loans that the administration of Gloria Arroyo obtained from the Chinese government in 2004 in exchange for agreeing to allow China to explore within the country's economic exclusive zone.
In his State-of-the Nation address last Monday, the issue about West Philippine Sea was mentioned sort of in passing. "The West Philippine Sea issue and federalism are matters that we have to tackle sooner or later," Duterte said.
Reporters followed it up in his post-SONA press conference. Duterte added more information:
"When they start to excavate the gas and all. I tell you, it's going to be just like a joint venture. Para pareho. (So it's equal). "
Read the rest of this post »

July 29, 2017 9:24 am

Tags: Alan Peter Cayetano, Reed Bank Joint exploration, rodrigo duterte, South China Sea, Spratlys Posted in: Foreign Affairs

One Comment
What's Duterte's speech without his trademark slogan, "Putang Ina?"
I'm bit disappointed that he spewed out only nine putang ina in his State-of-the Nation address Monday. That's way below his usual 20 or so Putang Ina in one speech. And he spoke for two hours!
In his 2017 SONA, regaled the Filipino people with his own imagined "truths", telling people of praises that were never uttered and ordering or taking credit for what are already long in place.
During the SONA, VERA Files did a live Fact Check of some of what Duterte said.
Here are some of the items VERA Files came up with:
Read the rest of this post »

July 27, 2017 10:33 pm

Tags: 2017SONA, Duterte Posted in: Governance

2 Comments
Oftentimes, when we read or watch on TV news about what's happening in Donald Trump's United States of America, you can easily find similarities in the Philippines.
It's because Trump and the Philippine's Rodrigo Duterte have many things in common: their contempt for the rule of law, their low regard of women, and their antagonism towards media.
The other day, Trump's press, Secretary Sean Spicer resigned. This inspired social media wit, Bernard Ong, to pen a letter to Trump with very exciting recommendations.
Read the rest of this post »

July 24, 2017 8:00 am

Tags: ABS-CBN, Donald Trump, Philippine Daily Inquirer, rodrigo duterte Posted in: Media

2 Comments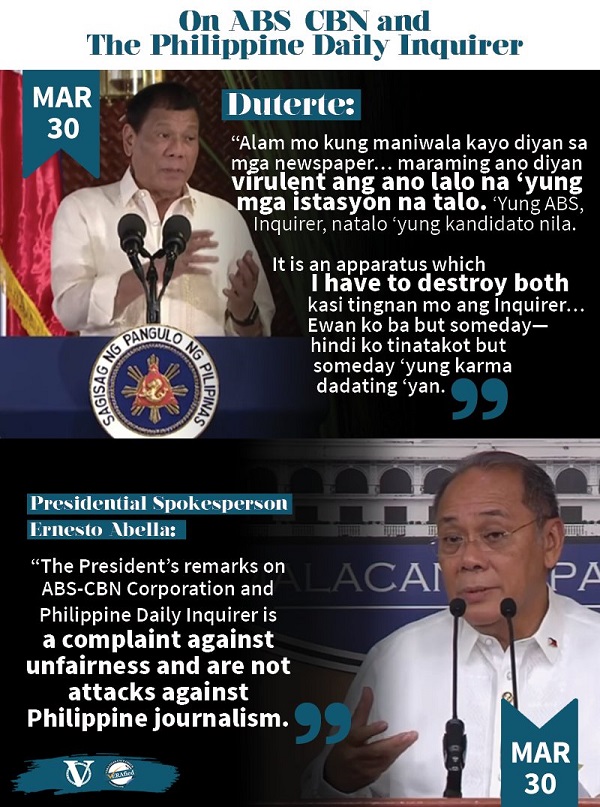 The president of the Philippines is the country's chief executive, head of state and commander-in-chief of the armed forces.
His powers are awesome, so his words carry the weight of his powerful position.
In his one year in office, President Duterte has shocked, stunned, and bewildered not only Filipinos but also the international community with his pronouncements.
A political observer said that to keep his sanity, he usually waits a day or two before deciding whether to take seriously or dismissing Duterte's statements.
Read the rest of this post »

July 22, 2017 12:53 pm

Tags: rodrigo duterte Posted in: Communication

2 Comments