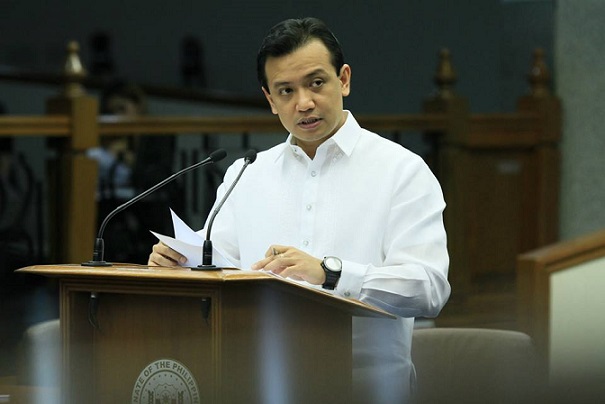 Sen. Antonio Trillanes IV is one of the five senators who did not vote for Senate Resolution 388 "Expressing the sense of the Senate supporting Proclamation No. 2016 dated May 23, 2017 entitled "Declaring a State of Martial Law and suspending the privilege of the writ of Habeas Corpus in the whole of Mindanao and finding no cause to revoke the same."
Following is the transcript of Trillanes' explanation for his negative vote.
TRILLANES: Let me just make it clear that my negative vote for this resolution does not mean that I do not support the military operations going on right now or that I do not sympathize with the people of Marawi and the people of Mindanao. I believe all of us here are supportive and we salute the efforts of the AFP, we laud their sacrifices for the country and we want to support them as best we can. But the issue here is about the correct response or the proportionate response of the government to this crisis, which I believe that this declaration of Martial Law for the whole of Mindanao is not the correct response. And in fact, we heard it during yesterday's security briefing, the AFP and their defense establishment didn't even ask for it.
Read the rest of this post »

May 31, 2017 9:40 am

Tags: Martial Law in Mindanao, Trillanes Posted in: Military

4 Comments
Update May 31, 2017:
Antonio "Sonny" Trillanes IV
"During the security briefing, I asked Sec. Lorenzana based on their intel reports, if I or the Magdalo group is linked in any way with the Maute? He answered, 'No, Mr. Senator. Na receive din namin ang information na galing daw kay Abe Purugganan. Hindi totoo yun. Hindi namin pinansin yun.'"
Rep. Gary C. Alejano of the Magdalo Party-list denounced as malicious and irresponsible the reports being spread by a former undersecretary in the Arroyo administration linking their organization to the Maute Group whose terrorist campaign in Marawi City President Duterte said compelled him to declare Martial Law in Mindanao on May 23.
"This is the height of irresponsibility of those involved in spreading this fake and malicious information especially in this trying times when our brothers and sisters in Marawi need all the support from the Filipino people. I categorically deny that Magdalo is involved in any terroristic acts or is affiliated with any terrorist groups. The intelligence community could affirm this as we have constant engagements with them," Alejano, speaking for the group, said in a statement.
Sen. Antonio Trillanes IV, one of the officials of the political organization, said "it is obviously a black propaganda, a very vicious one." He said he will address the issue after a scheduled briefing by military officials for senators on Monday.
Read the rest of this post »

May 28, 2017 3:06 pm

Tags: Abe Purugganan, fake news, Magdalo, martial law Posted in: Governance, Magdalo, Military

2 Comments
This story first came out in VERA Files. Please click here to see complete Martial Law declaration Report.
For more VERA Files report about Martial Law in Mindanao please click to links below:
Martial Law in Mindanao: A timeline
VERA Files Fact Sheet: Explaining Martial Law
Duterte allies in Congress support Martial Law; opposition calls for vigilance
President Rodrigo Duterte has called the clashes in Marawi City between the Maute group and government forces an act of rebellion, which is one of the justifications for the imposition of Martial Law and the suspension of the writ of habeas corpus under the Constitution.
The other justification is "invasion."
In a seven -page report he submitted Thursday to Senate President Aquilino Pimentel III and House Speaker Pantaleon D. Alvarez, following his declaration of Martial Law in Mindanao May 23 while he was on a working visit to Russia , Duterte said, "While the government is presently conducting legitimate operations to address the on-going rebellion, if not the seeds of invasion, public safety necessitates the continued implementation of martial law and the suspension of the privilege of the writ of habeas corpus in the whole of Mindanao until such time that the rebellion is completely quelled."
Read the rest of this post »

May 27, 2017 10:05 am

Tags: martial law, Maute Group, rodrigo duterte Posted in: Governance, Military

No Comments
Click here: Know your rights under Martial Law


What makes me happy.. I'm sad, but what makes me happy that I was able to have a last minute.. Hindi last minute but it was almost an hour, a last minute meeting with President Putin and I was able to communicate all the things that I wanted to tell him. Maganda naman ang ano, positive naman ang…
Mga kababayan natin.. Do not be too scared. I'm going home, I'm cutting my visit here to be with my countrymen and I will deal with the problem once I arrive. But let me just tell everybody that I have declared martial law for Mindanao. How long, well, how.. it would take a year to do, then, we'll do it. If it's over within a month, I'd be happy. Pero ang martial law is martial law ah. So kayong mga kababayan ko, you have experienced martial law. It could not be any different from what the President Marcos did. I'd be.. I'd be harsh. I was asked one time during the campaign doon sa La Salle, I was asked how I would deal with terrorism, I said I will be harsh. Sinabi ko nga sa lahat eh, do not force my hand into it. I have to do it to preserve the Republic of the Philippines and the Filipino people.
Read the rest of this post »

May 24, 2017 7:53 am

Tags: Marawi, martial law, Maute Group Posted in: Governance

2 Comments
Newly-installed Foreign Secretary Alan Peter Cayetano said he has been in all the bilateral meetings between President Duterte and China's President Xi Jinping and he has not witnessed any threat of war uttered by the Chinese President.
Philippine Ambassador to China Chito Sta. Romana, who has worked and lived in China as a journalist before he was recruited to the foreign service, said in a TV interview, "The whole idea…therefore that China was bullying us and threatening us just doesn't pass."
What does that make of President Duterte, a liar?
Read the rest of this post »

May 23, 2017 9:23 am

Tags: Alan Cayetano, Chito Sta. Romana, rodrigo duterte Posted in: Foreign Affairs

No Comments
The implementation of VISA-FREE entry to the ROC (Taiwan) for Filipinos has been rescheduled to September 2017, and the exact date of the commencement of the implementation of the visa-free treatment will be further announced in September or at other appropriate date this year.


The Ministry of Foreign Affairs (MOFA) of the Republic of China (Taiwan) has recently announced that the implementation of visa-free entry to the ROC (Taiwan) for Filipinos has been postponed in order to complete relevant administrative procedures and inter-agency coordination. MOFA is expected to release the full details of the implementation of the said visa-free arrangements including the exact date of the commencement of implementing the visa-free treatment and its requirements either in September 2017 or at an appropriate date in due course.
Read the rest of this post »

May 23, 2017 6:24 am

Tags: Taiwan Posted in: Foreign Affairs

No Comments
Senior Associate Justice Antonio T. Carpio said today the Philippines can to bring to the United Nations the matter of China's President Xi Jinping threatening President Duterte that China would wage war if the Philippines starts drilling oil in disputed areas in the South China Sea.
In a statement, Carpio said: "The threat of China to go to war against the Philippines if the Philippines extracts oil and gas in the Reed Bank, or in any area within Philippine EEZ in the West Philippine Sea, is a gross violation of the United Nations Charter, UNCLOS, and the Treaty of Amity and Cooperation in Southeast Asia to which China and the Philippines are parties. As a nation that under its Constitution has renounced war as an instrument of national policy, the Philippines' recourse is to bring China's threat of war to another UNCLOS arbitral tribunal, to secure an order directing China to comply with the ruling of the UNCLOS arbitral tribunal that declared the Reed Bank part of Philippine EEZ. The Philippines can also ask for damages for every day of delay that the Philippines is prevented by China from exploiting Philippine EEZ. "
Read the rest of this post »

May 20, 2017 10:55 pm

Tags: Antonio Carpio, rodrigo duterte Posted in: Foreign Affairs, Governance

No Comments
This story first came out in VERA Files.
On the sidelines of the first One Belt, One Road summit in Beijing last week, President Duterte met with Turkey President Recep Tayyip Erdoğan and Jargaltulgyn Erdenebat, prime minister of Mongolia.
In his press conference upon arrival in Davao City May 16, Duterte said h is sponsoring the application for membership of Turkey and Mongolia into the Association of Southeast Asian Nations. The Philippines is this year's chair of the meetings of Asean, which coincides with the golden anniversary of the regional organization.
"Ay oo, kasi nandiyan ka sa ano…By the way, I had a talk with the President Erdoğan and the Prime Minister of—si Erdenebat sa Mongolia. They also want to… Gusto nila na magsali sa ASEAN. And since I was—I am the chair, ang Pilipinas ngayon, they wanted me to sponsor their entry and I said, "Yes, why not?," he said.
Read the rest of this post »

May 20, 2017 6:50 am

Tags: Asean, rodrigo duterte Posted in: Foreign Affairs

No Comments
President Duterte's solution to the country's problems is "kill, kill."
The 28-member state European Union has made it clear that they will not allow their money to be used to kill people.
Anticipating a removal of the Philippine's favored status under EU's Generalized Scheme of Preferences wherein tariff on Philippine goods for export to the EU is lowered or removed based on the Philippine government's compliance with at least 27 agreements and treaties on human rights, labor, environment and governance, the Duterte government announced that it will no longer receive aid from EU.
Read the rest of this post »

May 19, 2017 3:42 am

Tags: European Union, rodrigo duterte Posted in: Foreign Affairs, Governance

4 Comments
It was not surprising that the Malacañang-friendly congressmen killed without much fuss the impeachment complaint against President Duterte filed by Magdalo Rep. Gary Alejano Monday.
Sen. Antonio Trillanes IV, also a member of the Magdalo group (which started as a group of young military officers advocating for reforms in the military), lamented the quick dismissal of the impeachment rap saying that the members of the House Justice committee didn't even study the content of the complaint when they decided that although it was sufficient in form, it was not sufficient in substance.
But Trillanes, one of the few who dare oppose Duterte, said it's not the end of the quest for a better government for the Filipino people.
In fact, the dismissal of impeachment complaint would even bolster the communication filed by lawyer Jude Sabio against Duterte before the International Criminal Court in The Hague.
Read the rest of this post »

May 17, 2017 12:01 am

Tags: Gary Alejano, Impeachment, rodrigo duterte Posted in: Governance, Human Rights, Illegal Drugs

4 Comments