Life in a private army in Iraq
"THOSE times when Iraqi insurgents would attack American facilities in Baghdad with rockets and mortars, I would ask myself, is this worth the $3,000 a month I'm here for?"
JP (for understandable reasons, we are not giving his real name) was sharing with us, one afternoon last week, his experience as security specialist for Private Military Contractors (PMC) securing American facilities and officials in Iraq.
JP, 42, was one of the 25,000 armed personnel in Iraq working for PMCs in a $100 billion industry spawned by the privatization of war jobs normally performed by national military forces. They are also referred to as "mercenaries."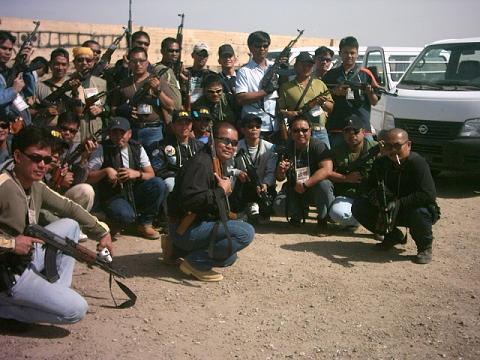 JP was hired from the Philippines in March 2004 by Dyncorp, a Reston, Virginia-based technology and services company which acquired a multi-million dollar contract with the US State Department to advise the Iraqi government on setting up effective law enforcement, judicial and correctional agencies as well as provide peacekeeping support.
Dyncorp has a colorful reputation in the private military business securing Afghan President Hadmid Karsai, providing police services in Bosnia, flying defoliating missions over cocoa crops in Colombia, conducting patrol along the US and Mexico border, and peacekeeping service in East Timor.
Unlike many of the 25 other Filipinos who worked as armed personnel in Dyncorp, JP did not have military or police experience. But as a criminology graduate, he had worked as a security guard in Manila and in Guandong, China.
It was through a colleague in Guandong, who worked with Dyncorp in East Timor, that he learned about the Iraq job opportunity in the American company. He was given the e-mail address of a Filipino who was acting as coordinator between the applicants and Dyncorp.
Compared with the local salary rate of less than P10,000 a month, Dyncorp's offer was awesome: $1,600 a month for a one-year contract.
All their visa requirements to Kuwait (where they were met by the Dyncorp representative) and Iraq and tickets were taken care of by the company. They just picked up their tickets at Kuwait Airlines in Makati and boarded the plane at NAIA.
They didn't pass through the Philippine Overseas Employment Agency that regulates deployment of Filipinos overseas. At the NAIA, a woman took them through immigration. Otherwise they would have aroused suspicions because they looked the typical overseas Filipino worker, yet they were traveling as tourists and their travel papers stated that they were billeted at Marriott Hotel in Kuwait.
From Kuwait, they traveled to Baghdad by land for 10 hours escorted by armed Iraqis. They underwent two-week training by Americans on how to handle and assemble different kinds of high-powered guns like AK-47 and MP5.
Their first assignment was at An Numaniyah, approximately 294 kilometers south of Baghdad, to provide security for the US Army Corp of engineers doing reconstruction work in a military base.
JP explained that there are two classifications of armed private personnel in Iraq. The first, described as "static," are those who guard American offices and facilities. Almost all of the Filipinos who were recruited by PMCs were for "static" jobs.
The other classification is Personal Security Detail (PSD) who provide security for officials like Blackwater USA personnel guarding Paul Bremer, administrator for Iraq under the Coalition Provisional Authority, and escorting deliveries of supplies to combat fields or reconstruction sites. Since this assignment is more dangerous, it pays much higher of up to $12,000 a month.
JP said they were prepared for the worst when they applied for the job. All contracts with PMCs warn the employee, referred to as "contractor," that they were going into hostile environment. One contract states: "Overseas work by its nature can be dangerous due to the environment, insurgent/terrorist activity, or other post-war conditions. The probability of serious injury or death should be expected. The Contractor by virtue of entering into this agreement recognizes and accepts these risks."
They are also prepared for adverse living conditions. One contract also states: "It is understood that the food, lodging and general living conditions can be extremely adverse in an overseas environment; therefore hardships in these areas should be expected and are accounted for in the compensation."
JP said except for one tense incident when an Iraqi politician with his armed bodyguards wanted to get inside the US camp, their four-month work at An Numaniyah was better than they had expected.
JP cut short his employment with Dyncorp when he and 14 other Filipinos were pirated by Erynis International, a private military contractor founded by notorious pro-Apartheid South African officials, with a salary offer of $3,000 a month. (They reimbursed Dyncorp $800 for their airfare to Iraq.)
Under Erynis, JP said their assignment was providing security on the perimeters of the Baghdad Green Zone, also known as the International Zone, the heavily guarded diplomatic/government area of closed-off streets in central Baghdad where US and British occupation authorities live and work.
Within the Green Zone are the main palaces of former President Saddam Hussein, American and British embassies, and offices and living quarters of American officials as well as that of major US consulting companies. Americans and British go out only when escorted by four bodyguards and an armored vehicle.
Online Global Security describes Baghdad Green Zone as "defended with coils of razor wire, chain-link fences, earthen berms and armed checkpoints. The area is defended by M1 Abrams tanks, Bradley fighting vehicles and Humvees with .50 caliber machine guns on top. The Green Zone appears under siege, with barriers, high concrete walls and checkpoints."
JP said the living conditions at the Baghdad Green Zone were much better than in An Numaniyah, which was a desert. But they experienced more attacks from Iraqi guerillas in Baghdad than in An Numaniyah. Grenades and mortar shells would be fired into what is supposedly the "safest area" in Iraq. One time, an Indian delivering supplies in the Green Zone was blasted to death by a rocket.
That's when, JP said, you would begin to wonder if the risks are worth the $36,000 (P1.9 million) he stood to get from the whole job contract. That's also when you hoped and prayed that, if you get unlucky and are unable to come home alive, your family uses wisely the $20,000 insurance benefits they would get. Over and above the insurance payment, Erinys promised a death compensation equivalent to five times their one month salary.
JP said on ordinary, non-red alert days, they each work eight hours in one day. During red alert days, they are required to work for 12 hours, without overtime pay. Since they are in full battle gear, JP said duty becomes an ordeal during summer when the temperature could go as high as 50 degrees centigrade.
JP said American military officials appreciate the service of the Filipino armed personnel in securing them. He shows with pride the commendation from Brig. Gen. Thomas P. Bostiok of the US Army of the Gulf Region Division (US Army Corp of Engineers) citing "his professionalism and dedication supporting the Gulf region Division's perimeter guard force in Baghdad during a period of heightened insurgent activity."
JP said despite the pullout of the Philippine military contingent from the Coalition of the Willing following the abduction of truck driver Angelo de la Cruz, Americans see Filipinos as allies. "We are preferred than other nationalities because of our knowledge of English and personal hygiene."
JP said in their off-duty hours, American officials would often join the Filipinos in karaoke sessions in their living quarters. "We pooled our resources to buy a Magic Sing. We need that to fight homesickness," he said. They would sometimes cook Filipino food to break the monotony of mess hall meals. "They (the Americans) love our adobo," JP said.
There is no dearth of Filipino applicants for the job. Due to the ban on Filipinos on travel to Iraq, the PMC avoids the legal impediment by hiring Filipinos from Dubai, Jordan, or Kuwait. That means, the Filipino applicants would have to invest some P60,000 each of their own money for their fare to those Middle East countries without assurance of a job contract and agreed compensation package.
This arrangement puts the Filipino applicants in a situation where they are forced to accept lower pay so as not to go home empty-handed and to recoup expenses for their fare. JP said the current hiring rate now is $1,700 a month.
JP, who came home in June 2005, is thinking of trying out Afghanistan. There, at least, Filipinos are not banned from going
(Above photo shows Filipino armed personnel in An Numaniyah, Iraq)

July 3, 2006 6:50 am

Posted in: Malaya